A wheelchair in the Old Observatory
Yesterday marked the start of the National Accessibility Week. How accessible is Leiden University for people with a disability? We asked Lucia Langerak, disabled herself and working at the Honours Academy, about her experiences: 'Significant improvements are being made.'
The National Accessibility Week is an initiative of Ieder(in). They strive for a society that is inclusive of all people with disabilities. During the National Accessibility Week, events are organised throughout the country to draw attention to the accessibility of public spaces and buildings.
Studying with a disability
An inclusive society is something Lucia Langerak strives for as well. After studying Egyptology at Leiden University, she became co-founder and coordinator of the Access & Support Platform (ASP). This network offers support to students with disabilities, who constitute around 8% of the total student population. Langerak has personal experience studying with a disability, as she was diagnosed with multiple sclerosis in 2011, her final year of secondary school. Because of her illness, she has a severe energy deficiency and is wheelchair bound.
Do you want to know more about studying with a disability? Visit the student website.
National monument
As of April 2021, she works as a web editor at the Honours Academy, having found a more than capable team of students to take over her work with ASP. 'I never thought I would be doing editorial work after studying Egyptology - although I have always been somewhat of a nitpicker', Langerak jokes.
The base of operations of the Honours Academy is the Old Observatory. Because of the pandemic, Langerak has only been there a handful of times. 'The building has a remarkable appearance and atmosphere', Langerak notes.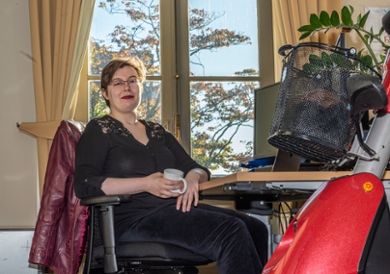 However, the national monument - built in 1861 - poses certain issues for her. 'There are high, stone thresholds throughout the building. Moreover, the threshold of the toilet for people in a wheelchair is too steep.'
But accessibility is about more than thresholds. 'When I can navigate a building, but not use its facilities as intended, the building is not really accessible to me.'
Ideally, buildings should be adapted to her needs, wherever she goes. 'As a person with a disability I am used to asking for help, but I often feel like I am a burden to others.'
An accessibility inspector at the Old Observatory
Leiden University is working to improve the accessibility of its buildings. In 2021, several university buildings have been subjected to an accessibility assessment by Ongehinderd, including the Pieter de la Court Building, the Kamerling Onnes Building and the University Library. Ongehinderd is a social enterprise committed to making the Netherlands more accessible. On the basis of the assessments, the organisation will make information available about the buildings through the Ongehinderd website and app (Android en iOS).
Two weeks ago, the Old Observatory was assessed by an accessibility inspector. 'It is very good that this happens', believes Langerak. 'Significant improvements are being made.'
Dream big
Where will all this take us? Langerak is realistic: 'I wonder whether there really is such a thing as a finish line. Are we ever truly done making society accessible?' In any case, she will continue to advocate a fully accessible society. 'It is a big aspiration, so let us attempt to achieve it together.' A fitting call for the start of the National Accessibility Week.
Text: Michiel Knoester
Photography: Buro JP
Do you have questions or comments regarding the improvement of the accessibility of Leiden University? You can send an email to the D&I Expertise bureau at diversiteit@leidenuniv.nl.