An important visitor in The Hague: The ambassador of Bangladesh visits International Studies
What can you learn about Bangladesh that cannot be found on Google? On 24 September, bachelor students of International Studies and Southeast Asian Studies were given an answer to that question. In a well-filled lecture room, the ambassador of Bangladesh, Riaz Hamidullah, gave a lecture about his country.
The reason for the lecture was the 50th anniversary of Bangladesh. The ambassador seized this opportunity to look back on the changes that the country has undergone. On how far social and gender emancipation has advanced, for example. More than four million women now work in factories and the birth rate has dropped from six children per woman to 1.8.
Not fifty, but fifteen
Progress, according to the ambassador - but this does not mean that there are no more problems ahead. Looking at the next ten to fifteen years, he stated that 'It is impossible to look further into the future, because we cannot know exactly what is going on amongst our youth'. That is why he focused on medium-term future challenges, the biggest of which might be technology. How are we going to fairly distribute access to it? How are we going to properly manage water use, and rising sea levels? And what are we going to do when 75 per cent of doctors can be replaced by technology, as the WHO predicts?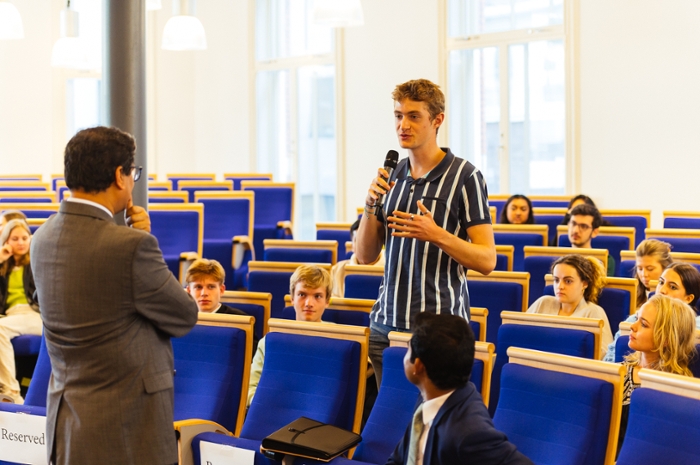 Critical questions
Big questions, but the students had at least equally big questions for the ambassador during the discussion after the lecture. Some of them were personal, such as the question about what makes a good diplomat ('Keep an open mind and keep learning', according to the ambassador.) Others included criticism of the situation in Bangladesh. What does the ambassador think of the working conditions at factories? And does the country oppress minorities too much? The ambassador acknowledged that 'price fighters' in the garment industry, who do not treat workers responsibly enough, are an issue. However, he emphasised that Bangladesh aims for environmentally friendly production and that worker's rights are improving. Otherwise, Dutch companies, such as C&A, and Dutch politicians, such as Lilianne Ploumen, would not continue to cooperate with the country. In his answer to the question about the position of minorities he stated that the government of Bangladesh is open to everyone, but that it is important not to let minorities disrupt the country. Minorities should have representation, but not use it to undermine the democratic system.
Snacks and books
Even though there were plenty of student questions left after half an hour, it was time to stop. The Bangladeshi snacks that the ambassador brought were starting to get cold and needed to be eaten. Meanwhile, students could also take a look at the hundred-odd books about Bangladesh that the ambassador donated to the university in order to increase knowledge about his country.