Ecologist Emilia Hannula receives Gold Medal in Teylers Museum
Soil ecologists Emilia Hannula (Leiden) and Elly Morriën (UvA) received the Golden Medal of Teylers Tweede Genootschap on 5 November. They received the prize for their submission to a competition on sustainable soil management.
In 2017, Teylers Tweede Genootschap (see box) held a competition in which they called for 'a critical study of optimising the sustainable multifunctionality of soils'. In their submission, Hannula and Morriën looked at how to keep soil life healthy and vital. Soil life is crucial for a sustainable planet: it ensures that plants can grow and that drinking water is clean, and it can even slow down climate change by storing CO2. But intensive agriculture threatens soil exhaustion. In their study, the duo propose solutions to this problem.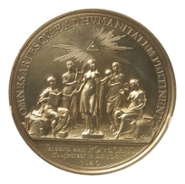 'Soil life is close to our hearts'  
'This prize means a lot to me. I'm especially happy to win it with my long-term collaborator Elly. We want to highlight the importance of biota and especially fungi in the health and multifunctionality of soil, a subject close to our hearts – and one that deserves more attention in society.'
During her acceptance speech, Hannula made a nice promise: 'I promised to keep on working on this topic at least for the coming 25, if not 30 years we still have before retirement!'
A lot of attention for the award ceremony
Hannula says she enjoyed the ceremony. 'It was great and the location was beautiful (Teylers Museum, ed.). It was fantastic to talk to different visitors, including current and former colleagues. I also heard my CML colleagues were watching the live stream back at the Faculty. In total, there were 75 people present in person – including my family – and over a hundred watched online.'
TEYLERS TWEEDE GENOOTSCHAP is part of the Teylers Society. The foundation has been active since 1778 to stimulate art and science. In accordance with Pieter Teylers' will, the first directors set up two societies that were to organise competitions on important current or scientific themes. The best entry is still awarded a gold medal. The first directors also founded Teylers Museum, which opened its doors in 1784.