LUC Student Wins Nobel Peace Prize Essay Competition
Natalia Sobrino-Saeb, third-year student at Leiden University College The Hague, won the challenge by the Ignitor Fellowship Program held by the Nobel Peace Center for her essay on the threats to journalism in Mexico. On December 10th Natalia met the Committee of the Ignitor Fellowship in Oslo and attended the opening ceremony of the Nobel Peace Prize.
Natalia Sobrino-Saeb submitted her essay on the uphill battle against corruption and violence faced by journalists to the committee of the Ignitor Fellowship Program following a call for submissions. She was selected as winner for her well-structured arguments that highlight the dangerous reality for many journalists on the ground.
A Q&A with Natalia
When did you decide to enter the essay competition and what inspired you about the topic?
Natalia Sobrino-Saeb: 'I had been considering participating for a long time, since I first received the email from Leiden University back in the end of October, but I had left it on the back burner and just kept it in mind. In the end, I decided to enter my submission close to the due date, and well, I'm incredibly happy that I gave myself a chance. So, I do want to say this: if there's something you're even mildly interested in, go for it. At least for the experience of trying, for the experience of receiving a rejection if it doesn't work out, because who knows, you're probably greater than you think.'
'What inspired me to write about this was a class at LUC, 'Politics of the Policy Process: Anticorruption' with Assistant Professor Diana Branduse, where we learnt about corruption and explored possible mechanisms to address it. Additionally, at the time someone close to me was going through a rough time because for questioning an issue, they were intensely targeted and attacked 'ad hominem' simply for having spoken up. Therefore, I investigated the ties between journalism and anticorruption, and that's where the idea for the essay came from.'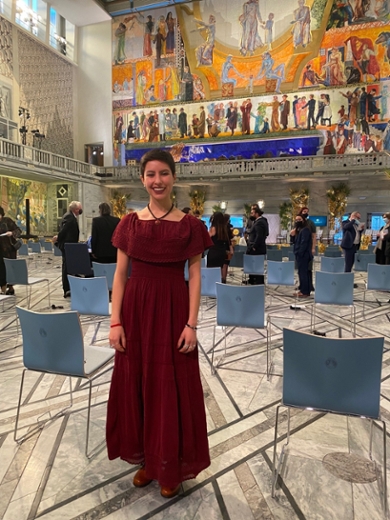 In your essay you argue that Mexico needs to tackle the root of the problem, which is unfortunately not possible in terms of the actors at that root who wish to preserve it, but mainstream society may still be a viable seed of hope. You go on to discuss the role that the general public plays in tolerating corruption, and the need for this to change in order to better protect the personal safety of journalists and the integrity of journalism in Mexico. How do you think this can be realised?
Natalia Sobrino-Saeb: 'I think the first step is to become aware of what the situation is for journalists in our respective countries. Before I wrote about and investigated this topic, I had no idea the situation in my country, Mexico, was so terrible, and now that I do, I want to use opportunities such as the one I'm having now to create a dialogue about this issue. I think then, once we start talking about the injustice faced by journalists, and therefore us citizens who no longer have access to the truth, we can demand for the protection of journalists and the procurement of our right to information.'
One thing that is striking about your essay is that you urge people to look beyond the numbers. In doing so you implore people to understand that behind the high crime rate and violence against journalists, there are people and families whose lives are devastated by the issue. How can we better come to see journalists as people and take a harder stance at defending their right to privacy and protection?
Natalia Sobrino-Saeb: 'If we realise that these are not just numbers, that these are people who are taking on fights bigger than we can imagine, we can understand that behind every figure there is a human, and a human who was abused or even killed not for doing something wrong, but for either getting too close to something, for pointing out a wrongdoing, for so many reasons that shouldn't be happening. Journalists are being harmed for simply doing their job, and even worse, as I say in my essay, for doing a public service by denouncing wrongs being done and by informing us, and allowing us as citizens to engage in debates and have the chance to make informed decisions. '
'I recently saw a fragment of a documentary about Maria Ressa, who will tomorrow be one of the two journalists awarded with the Nobel Peace Prize, where she quotes the poem 'First They Came' by Martin Niemöller, someone who had a problematic role in Nazi Germany, yet his words in this text are still relevant. The last line of this poem is Then they came for me—and there was no one left to speak for me. If we don't acknowledge the abuse of those who are speaking and putting themselves at risks for them, if we let journalists be continuously oppressed, who will be there then to speak for us?'
Natalia began studying at LUC in 2019 and was quickly inspired by teachers including Ayo Adedokun, Assistant Professor at LUC and recent winner of the Leiden University Teaching Award.
What impact Ayo's teaching had on you?
Natalia Sobrino-Saeb: 'I met Ayo in the class 'Institutions, Governance, and Development' in my first year at LUC, I was first intrigued by his background as a consultant for the Nigerian government, the World Bank group, and the United Nations, among others. I loved his style of teaching: he genuinely cares for his students, and he shows it, he pushes you to do better, to achieve your full potential, and to be critical, and he is simply a very fun personality and professor. He has told me that I can achieve great things, and he has never stopped supporting me even when I was no longer in his classes, and on many occasions that support has made me consider yes, maybe I can make it'.'
Testimonials:
'I am delighted to hear that Natalia Sobrino won the essay competition organized by the Nobel Peace Center in Oslo, Norway. As Natalia's teacher and mentor, I can confidently say that the selection committee has chosen the most deserving and worthy candidate for this prestigious award. Natalia is a one-of-a-kind student – she is highly motivated, intellectually sound, socially conscious, and well-mannered. She is passionate about education, learning, and more importantly, helping others. She has excellent leadership, teamwork and collaboration skills; and serves as a role model for her peers. So, this award is timely and well-deserved. Natalia is a proof that good things come to students who are willing to dream big, work-hard, and stay focused. Congratulations Natalia on this incredible achievement, and many more ahead!'
- Dr. Ayokunu Adedokun, Assistant Professor of Public Policy & International Development, & Best Teacher of the Year!
'Natalia's essay is courageous and insightful. Her analysis revealed the context and complexity of the risks journalists face when simply doing their jobs. Impunity for crimes against journalists remains a global concern. Journalists continue to face physical and verbal attacks that threaten their ability to report news and disseminate information to the public. This piece by Natalia Sobrino-Saeb is very crucial since independent Journalists around the world are constantly under threat and addressing this issue is one of great importance.'
– Natalie Jesionka, Committee Member of the Ignitor Fellowship
'Furthermore, the article is well-structured, well-quoted, very clear and interesting to read. It has a strong contention, supported by ideas, arguments and evidence. I think it has met the assignment criteria.'
– Salam Omer, Committee Member of the Ignitor Fellowship, Iraq

Leiden University College The Hague offers a broad, flexible and interdisciplinary residential Liberal Arts and Sciences programme with a focus on Global Challenges. In this bachelor programme students specialise in relevant fields like world politics, economics, governance, international justice, human & cultural interaction, global public health and environmental sciences.