LUC The Hague receives 'Top rated Programme' seal for the ninth time in a row
Leiden University College The Hague received the 'Top rated Programme' seal from the Keuzegids Universiteiten 2022 (Dutch University Guide). It is the ninth consecutive time the Liberal Arts & Sciences programme focusing on Global Challenges is awarded the honorary seal.
Leiden University College (LUC) came in second place of all University Colleges in The Netherlands. Only the new Leeuwarden- based programme of University College Fryslân, established in 2018 focusing on 'Global Responsibility & Leadership', achieved a slightly higher score. LUC The Hague ranked 'best university college in The Netherlands' in 2020 and 2021.
Excellent Education: Offline ánd Online
According to the Keuzegids Universiteiten 2022, university colleges in general offer excellent education with
Leiden University College The Hague
being the runner-up in the ranking of university college of The Netherlands. LUC College Board members
Prof. Dr. Judi Mesman
(Dean),
Drs. Alice van de Vooren
(Educational Director) and Kim Duistermaat (Operational Manager) are very pleased of this achievement:
"We are incredibly proud of our staff whose dedication, passion and unwavering investment in the programme and our students have led to this wonderful result!

"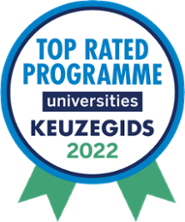 Total Score
Academic programmes with more than 75 points receive the seal from the Keuzegids. With a total score of 83 points out of a possible 100, the Liberal Arts & Sciences programme from The Hague received outstanding scores on the curriculum and very positive on the professors, ambiance, study feasibility and examinations.
The Hague
The international honours college of Leiden University is based in The Hague. The LUC community works in close collaboration with the municipal, local and international partners of the city of The Hague on education and research which focuses on today's global societal challenges. LUC The Hague was founded in 2010 with support of the city of The Hague and now has more than 600 students and over 1300 alumni.
The 'Keuzegids Universiteiten' (Dutch University Guide) is annually published by the 'Centrum Hoger Onderwijs Informatie'(Dutch Higher Education Centre) and uses the results of the 'Nationale Studenten Enquete' (National Student Survey) combined with expert opinions of the most recent accreditation. The NSE is a large-scale, national study that yearly invites all students in higher education to voice their opnions about their programmes of study.