Medical Delta professor Jaap Harlaar: 'This form of collaboration is in my blood'
Hundreds of thousands of Dutch people suffer from pain caused by knee osteoarthritis and the number is rising fast. Prof. Jaap Harlaar specialises in clinical biomechanics. His research is helping improve osteoarthritis treatment. Harlaar has been appointed Medical Delta Professor and now holds posts at the LUMC, Delft University of Technology (TU Delft) and Erasmus MC. This will help him in his work. 'You have to cross disciplinary boundaries to tackle a disease like osteoarthritis.'
'With osteoarthritis, you have to understand what is happening at the cellular level of the cartilage and the strain of movement on the cartilage,' says Harlaar. 'You can express the importance of working together on a metric scale. I look at a patient from the metre to the millimetre, fellow biomechanist Amir Zadpoor looks from the millimetre to the micrometre and biologists Gerjo van Osch and Ingrid Meulenbelt look inside the cells at micrometre level. You need one another to understand the disease.'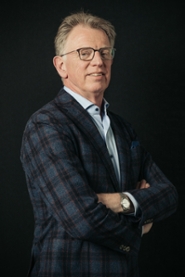 What does the appointment as Medical Delta Professor mean to you?
'This form of collaboration is in my blood and I have been working with the LUMC and Erasmus MC for a long time already. In that respect, nothing much will change. But the Medical Delta name will help. It gives that extra impetus to get new things done, so really is a significant factor. For example, it will have a positive effect on grant applications, which will speed up our research and mean a faster impact on the patient. Internally, it helps to raise our profile. By appointing the professors, the universities are saying: "we consider this collaboration important." This gives you more influence on designing facilities and determining research directions.'
'The Medical Delta vision is that we don't do science for the sake of science, but to have an impact on healthcare. I completely agree with that and that is my motivation to work with others too.'
What do patients gain from this collaboration?
'Osteoarthritis is a complex disease and varies greatly from one patient to the next. Precise diagnostics are needed to decide on the best treatment and it is only through far-reaching cooperation that we can offer this. We are therefore developing a new research lab at the Erasmus MC radiology department, for example. Here we are combining imaging – with input from radiologist Edwin Oei – with "my" biomechanics. This will enable us to see very precisely what the cartilage load is for the individual. That will determine the treatment, but biomechanics is not the only thing that counts. Patient preferences are also important. One person wants to be operated on and have an artificial knee as soon as possible, whereas another wants to avoid surgery at all costs. There are many other options in between. What someone thinks is important should always be taken into account. It's mainly the orthopaedic surgeons in Leiden and Rotterdam who do the consultations on this, and we are involving them in the research as well.'
You have been programme director of the Clinical Technology and Technical Medicine programmes since 2018. What role does Medical Delta play in this?
'We train students in both the medical and technical world. They become 80 percent doctor and 80 percent engineer. This means they fit in perfectly with the Medical Delta vision. We thus ensure there is sufficient new scientific talent for Medical Delta and that it will grow in the future. In order to achieve this, we need lecturers with the same spirit, who understand that you have to work together to have an impact. That is why I think it would be a good idea to appoint Medical Delta lecturers in addition to professors. And it would be nice if the students from the programme graduated in the Medical Delta research programmes.'
What is your advice for a successful collaboration?
It is important to invest in the other person's world. When I came to work in the clinic years ago, I looked down a bit at how simple doctors' reasoning can be. "I see this, so I'll do that." It took me a while to understand that a doctor has a patient in front of them who wants an answer. The doctor has to deal with unknown complexity and bases their decisions on statistical considerations. On the other hand, a doctor often has to get used to how much time an engineer needs to work out a solution based on causal relationships. You have to be open to the problems that the other person is facing.'
Which other researcher has surprised you?
'Surprise is a big word, but the person I now work with a lot and have learned a lot from is Sita Bierma-Zeinstra from Erasmus MC. It is important to place biomechanics in the context of a disease, in this case osteoarthritis, and she knows an incredible amount about that.'
This article is part of a series in which we present the nine new Medical Delta professors. Jaap Harlaar's research contributes to the programme Medical Delta: Improving Mobility with Technology. View the inauguration of Jaap Harlaar and the eight other new Medical Delta professors here.