2021: This was the year of our faculty
2021 was an eventful year once again for the Faculty of Governance and Global Affairs (FGGA). Hybrid, working from home, online education, on-campus education, face masks, self-tests, keeping distance, quarantine and the coronavirus. Words that have now become a standard part of our vocabulary when you are talking about the working environment, but fortunately there was a lot more than just COVID-19. A selection of highlights, special moments and news messages per month.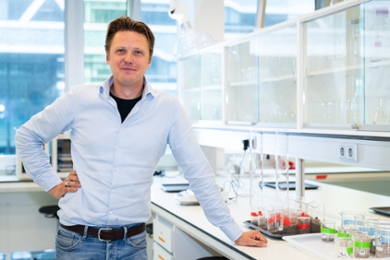 January
The year began well for Leiden University College (LUC): For the eighth time, LUC received the 'Topopleiding' (Top Degree Programme) seal from the Keuzegids Universiteiten 2021 (Dutch University Guide 2021). Just like the previous year, LUC was also named 'best University College in The Netherlands.'
We will stick with LUC briefly, because Associate Professor in Environmental Sciences Thijs Bosker received a subsidy for a major European research project studying the impacts of microplastics on agricultural soils. Bosker: 'The focus in this project is on agricultural soils. With the team, we are trying to gain more insight into what happens with microplastics in soils, and whether this can have harmful effects on the soil, but also on agricultural production. Since most of our food is grown in open fields, it is vital that we have healthy soil.'
February
A year after the beginning of the coronavirus pandemic, a report was published by a research group under the guidance of Sandra Groeneveld and Jet Bussemaker: 'COVID-crisis of COVID-kans? Adaptief en lerend bestuur in het LUMC en de regio' (COVID crisis or COVID opportunity? Adaptive and learning governance in the LUMC and the region) It examined the way in which governance is necessary in times of crisis and the fact that the research was conducted even though the crisis is not yet over is unique. A conscious choice, says Jet Bussemaker: 'You see very often that research is conducted in retrospect. When we began in the summer, everyone also thought that the crisis would slowly end, so we said: 'we need to conduct those interviews very quickly, because we need observations that are still fresh.' Not memories that are formed by discussions and which are therefore perhaps less vivid. It soon became clear, however, that the crisis was dragging on. The Leiden University Medical Center (LUMC) deserves a big compliment for the fact that it allowed the research to go ahead anyway. You place yourself in a vulnerable position when you are in the middle of a crisis.'
Due to the coronavirus, we still need to be creative when it comes to events like degree ceremonies. For example, not only was the Experience Day held online, but also the graduation of the Master's programme in Cyber Security, where everyone received a package at home and a big cheque as congratulations.
March
In March, we went walking en masse. The entire university walked kilometres and kilometres using the Ommetjes app. The Faculties competed with each other, but also the departments among themselves. A good distraction in times of coronavirus. The Faculty of Archaeology came away with the victory, while the FGGA finished seventh.
Outgoing Minister of Defence Ank Bijleveld-Schouten gave a guest lecture and entered into discussions with students about being a minister for four years and her plans for the future. Her message: Cherish freedom.
Dennis Broeders was appointed Full Professor of Global Security and Technology and talked about his ambitions to establish a centre of excellence for Emerging Technology and Security within the Institute of Security and Global Affairs (ISGA).
A festive online opening for the new programme for professionals: the 'Leiden Legal Technologies Program'. The first batch of students was addressed by, among others, outgoing Minister for Legal Protection Sander Dekker, The Hague alderman for Economic Affairs Saskia Bruines and dean Erwin Muller.
We began with a Faculty podcast: Kennis & Verdieping (Knowledge & Deepening). In the first three episodes, policy themes of the Institute of Public Administration were put under the microscope.
April
We were finally allowed to welcome students in the lecture halls, where they received a warm welcome.
600 students attended the Online Campus The Hague Career Event. Every day of the week, they were able to participate in presentations, webinars and workshops from alumni, professionals and career advisers who helped them to prepare for their future career.
Els de Busser received Dutch Research Council (NWO) funding for a project aimed at solving cyber security problems: C-SIDe. In this story, she talks about her research. Even more subsidy news, because Jan Melissen received 10,000 euros from the KNAW fund to increase the interaction between science and society.
May
How do you do your bit for sustainability in your local area? LUC students launched the website www.sustainablethehague.nl where more than 150 sustainable initiatives in and around The Hague are collected. Students Yente and Laura talked about the initiative on the city radio station Den Haag FM. You can listen to that interview here.
Joris Larik, Assistant Professor of Comparative, EU and International Law at LUC, was selected for a fellowship at the Netherlands Institute for Advanced Study (NIAS). His research will focus on the question: Was Brexit worth it when it comes to striking trade deals around the world?
June
A collaboration between Security Studies and the Police Academy of the Netherlands started. Third-year students from the degree programme were able to do a work placement at the Academy in Apeldoorn. There was great enthusiasm among students.
Fortunately, it was possible to hold events once again, while keeping a distance of one-and-a-half metres. Under the guidance of Jaap de Hoop Scheffer, a debate about Europe took place with the French and German ambassadors in our country. Students were able to ask questions about all kinds of themes related to French-German relations and the European Union.
Away from screens, into nature. Students of Paul Hudson, Associate Professor of Physical Geography at LUC, were given a course entitled 'Field Methods' in the nature surrounding The Hague and around the river De Geul in Limburg. The aim was to teach skills that are necessary for collecting environmental samples, aimed at the management of land and water supplies.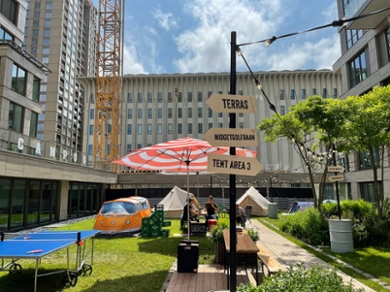 July
The courtyard of Wijnhaven acted as a camping site for almost three weeks. Colleagues from all faculties were able to meet, in a covid-safe manner, on this Campus Campsite and three degree ceremonies took place there. Table tennis was played, lunch was eaten, mini-golf was played and drinks parties were held.
During Discover The Hague, a fun small-scale way to get to know our faculty, our prospective students and the guides suddenly bumped into Mark Rutte. He was happy to have a quick photo taken.
Seven scientists from our university received a Vidi grant. Joris van der Voet, Associate Professor of Public Management at the Institute of Public Administration, was one of the seven recipients. He is going to conduct a research project entitled 'Administrative attention amidst political failure' and in this interview he talks about his plans.
August
August is traditionally the time for the HOP week: The Hague Orientation Programme. During this introduction week, the students get to know each other and the city. The mentors know for certain: 'This group will become their new family.'
Two of the three nominees for the LUS Teaching Prize work at our faculty: Els de Busser (ISGA) and Ayo Adedokun (LUC) are in the running for this annual teaching prize for the best lecturer of the past academic year.
September
Professor Judi Mesman received the prestigious Stevin Prize, the highest award in the Netherlands for a researcher who contributes to knowledge utilisation for society. She received the prize for her research and public outreach activities with regard to the question: What influence do children's upbringing and education have on their world view? When she heard that she had won the prize while sitting under her daughter's bunk bed, she 'shouted really loudly'.
We will continue focusing on prizes briefly, because Ayo Adedokun won the LUS Teaching Prize. Adedokun, who has been lecturing at LUC since January 2020 says 'teaching is not merely a profession; it's a calling' and he was very flattered and moved by winning the prize.
Professor Bram Klievink gave his inaugural lecture: Hollen én stilstaan: Hoe data en digitalisering de overheid veranderen. (Stop-and-go: how data and digitisation are changing the government)
ISGA secures a large European cyber project: EU Cyber Direct. Professor Dennis Broeders: 'The point of the project is how we, as the European Union, can safeguard our values and interests in the international cyber domain. That means a lot of outreach and debate, expressing what our positions and standards are when it comes to International law and norms for responsible state behaviour in cyberspace, for example.'
Extensive attention was devoted to the state opening of parliament (Prinsjedag); not only through our own talk show FGGA Next and the Economists Debate, but Gerard Breeman and Arco Timmermans also held their annual analysis of the Speech from the Throne.
October
There was a big surprise for Professor Jaap van den Herik as we bade farewell to him. He received a royal honour and was appointed Officer in the Order of Orange-Nassau.
640 successful graduates received their degree certificate at the end of October and a total of 2,500 guests took part in celebrating this success. The theme of the degree ceremony was 'Heroes' and there were video message from various heroes and Wijnhaven was beautifully decorated with a 'Heroes' theme.
Special visit in Wijnhaven. The Canadian Prime Minister Justin Trudeau and outgoing Dutch Prime Minister Mark Rutte had an informal conversation with each other and with students. The two were welcomed like true pop stars.
November
The 3.5-metre-tall puppet Little Amal visited The Hague in the week of 15 November. This wouldn't have been complete, of course, without a welcome from Leiden University. Two students gave her a LU card which symbolised how welcome she is, just like everyone else, at Leiden University.
Our students have a lot to offer to both public and private organisations. In order to better link students and organisations with each other, the FGGA has developed a new internship platform. TRAIL: The new internship platform of the Leiden Faculty of Governance and Global Affairs.
The Executive Board appointed Olaf van Vliet Professor of Economics, specialising in social security and labour market policy from an international perspective. This chair is affiliated with both the Department of Economics (Faculty of Law) and the Institute of Public Administration.
Some more appointments, because the CAOP, together with Leiden University, established a Special Chair: the Public Sector Transitions chair. This chair has been established at the Institute of Public Administration. The new Special Chair has been occupied by the professors Caspar van den Berg and Anchrit Wille since 1 November.
December
A meeting place offered by and for students. That is now a fact with the launch of POPCorner The Hague. Due to the stricter coronavirus measures, the opening week could not go ahead, but there were courses and workshops. An introduction to the people behind POPCorner.
Good news for Sanneke Kuipers. The Director of Education of ISGA was appointed Professor of Crisis Governance. 'Tremendously exciting and good that there is a focus on crises. Extreme threats are not a feature of these times. Crises were a constant factor in the past and are unavoidable to a certain extent whenever people live together in large numbers and whenever technological progress and associated risks are the norm.'
This review is a summary of the year at FGGA. We do not claim that it is complete. Do you think something is missing? Or have you done something special or do you know someone who has done something special? Let us know via communicatie@fgga.leidenuniv.nl stating 'annual review'.