In Remembrance: Kavien Suleiman
It is with great sadness that we inform you that Kavien Begikhani, former student at Leiden University College, passed away on 27 November at the young age of 27. The college community remembers Kavien's kindness and his commitment to peace and justice for people who suffer from oppression.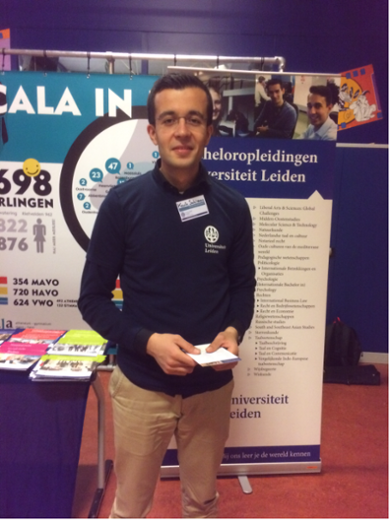 Kavien started at LUC in 2016, and chose to major in Human Diversity. Dr. Dan Saxon, who was one of his instructors, says "My strongest memory of Kavien is how caring he was. By "caring," I mean that he thought and felt deeply about the challenges facing the world and specifically about the struggles of the Kurdish and Yazidi communities in recent years. Kavien worked very hard to educate himself about these issues and to explore ways to communicate these challenges to the LUC community and to the public in The Hague. I was impressed by his desire and determination to work for the betterment of society, not only in Holland but also in Iraq and Kurdistan. He was simultaneously gentle, intense and creative. The LUC community is a poorer place without him, but we are very lucky to have known him and to have learned so much from him." Dr. Maja Vodopivec, who met Kavien as a student in her Politics of Cultural Memory class, says "I remember Kavien as a very polite and gentle young person, with many talents, love for culture, and the greatest passion for the Kurdish struggle. I will never forget his exhibition about the Halabja massacre for my class. I still have some cardamom seeds in my office Kavien gave me as a cure for a persistent dry cough I had after recovering from a cold. It is devastating to hear that a kind and caring young soul like Kavien has left us. Rest in peace, dear Kavien. LUC and I will miss you and keep the memory of you." In 2019 Kavien paused his studies at LUC and continued to study English Language and Culture, also at Leiden University.
Condolences
Kavien is buried in his beloved Kurdistan. On behalf of the LUC community, the College Board extends its condolences to Kavien's family, friends, fellow students and staff. We wish everyone strength, courage and love in dealing with this loss. The family can be reached at ah.feijs60@gmail.com for condolences.
Students who feel the need to talk or need help, can reach out to the Student Life Officer (slc@luc.leidenuniv.nl).
The LUC College Board
Prof. dr. Judi Mesman (Dean)
Alice van de Vooren (Educational Director)
Dr. Kim Duistermaat (Operational Manager)