No legal career but a food truck on Bonaire instead
If you study law, you won't necessarily end up striding round a law firm in tailor-made suits. Alumnus Harrie Schoffelen certainly hasn't: he made the conscious decision to follow another path in life. Together with his fiancée he runs a successful food truck on the tropical island of Bonaire. 'Return to the Netherlands? Never!'
Drive south from the Bonairean capital of Kralendijk at around lunchtime and you'll soon find yourself at Donkey Beach, a popular beach just a stone's throw from the airport. While KLM and TUI fly in fresh supplies of tourists, under the roar of the aircraft engines a small, brightly coloured cart stands in the tropical sun: the Cactus Blue food truck.
Cactus Blue is run by alumnus Harrie Schoffelen and his girlfriend Thamara. While she flips and garnishes hamburgers in the kitchen, he talks to the many hungry guests. Because there is plenty to say. About the unique lionfish burger, for instance, a burger made from the lionfish. With its orange colour and countless spikes this fish is a vision to behold. The only trouble is that it's outeating everything else on the coral reef. 'Eat our burger and you're doing your bit for the environment,' says Schoffelen, who isn't one to shy away from a sales pitch as it is. 'There's nowhere else on the island where you can get the fish every day except at Cactus Blue.'
Guests don't need to be told twice. Many are tired and hungry from diving or snorkelling, so a fish burger is just the ticket. Others order a beefburger or even the impressively proportioned hungry man's burger. A few minutes later they sit on the crates under the trees enjoying their lunch in silence, while the iguanas and lizards rush around eating up any leftovers.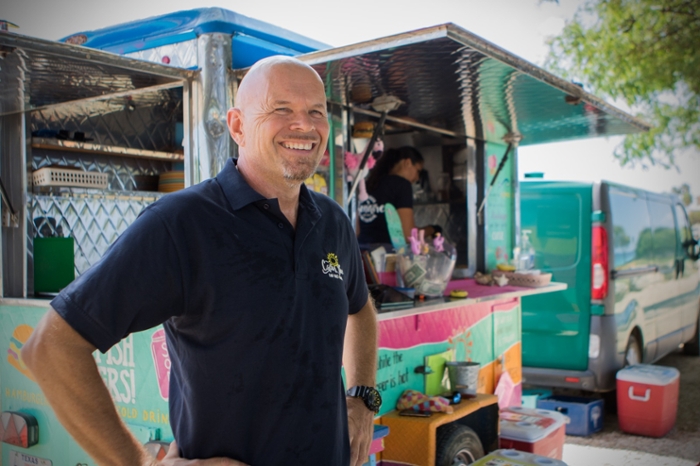 But how did a Leiden alumnus end up on the tropical Bonaire? And why didn't he decide to go into law?
To answer these questions we have to return to Schoffelen's Leiden years. His move to the city was an immediate success. Coming from Brunssum in Zuid-Limburg, he enjoyed city life. But when it came to studying, he first had to find his feet. He wasted two years studying public administration ('seriously dry stuff') before deciding to switch to law in 1990.
Skin of his teeth
Schoffelen felt more at home in the Kamerlingh Onnes building, but things didn't come naturally there either. 'It wasn't handed to me on a plate. In the last years a good friend and I spent every day – seven days a week that is – cramming at the library in the Gorlaeus building. We liked it there because we didn't know anyone at the Faculty of Science, so there were no distractions. I passed by the skin of my teeth. I really had to fight for it.'
Until six months before he graduated, Schoffelen had thought he was born for a career in law. But when it came down to it, he decided to back another horse: his music career. As a student Schoffelen had already created waves with his party band Harrie's Herrie. For years he was, in his own words, the band's 'manager, singer, frontman, clown and Duracell bunny', and took many a pub and student association by storm with his high power medleys.
'Full throttle'
Immediately after graduating he went to the Chamber of Commerce to register his own company. 'As a student I already lived off my music, and my diary was still full when I graduated. So I went for it because I knew I had to seize the moment.' What followed were a few years at 'full throttle' onstage, sometimes in front of a frenzied crowd of a thousand. 'If you're good at it, it looks really effortless to the outside world. But every guitar riff, bridge and tune was thought through.'
He enjoyed every single moment he says, as we sit on the veranda at the front of his house. A hedge of cactuses marks the boundary of his front garden, and Kyra the dog licks the interviewer's legs inquisitively. 'I wasn't the best singer but I knew how to get a party started. And when the microphone is switched on a switch goes on in me too. It's like when a lawyer has to argue in court: everything you've learnt comes together. It's magical. That's what I live for.'
Entrepreneurship as a by-product
Although Schoffelen hasn't pursued a legal career, his studies and student life in particular taught him a lot. The social skills he acquired have made him a good salesman, for whether it's a performance or a hamburger: Schoffelen clearly knows how to give people a good time. 'My entrepreneurial spirit was born in Leiden. To begin with I was often paid in free drinks as a musician but at a certain point you're not thirsty anymore. When I realised my music had real value I started asking for money.'
Joining Minerva also proved to be a good move. Although he wasn't a 'stereotypical frat boy', he met lots of nice people there. Moreover, his fellow members sometimes ended up high on the corporate ladder at multinationals like Shell or Unilever. And they all knew that if you want to give a good party, you need Harrie. He and his band were regularly flown in to perform in Malaysia, Oman, Gabon or anywhere else in the world.
Captivated by the Bonairean vibe
This busy musical existence began to take its toll, and in 2011 Schoffelen travelled to Bonaire to think about what he wanted to do with his career. He fell head over heels with the island's charms. 'The Bonairean vibe is hard to explain. It's the small things: how people greet each other, how motorists aren't in a rush but take the time to let others out. That atmosphere hasn't changed in the slightest despite the arrival of all the tourists.'
Trusting in his guitar and voice, the born entertainer had soon moved to the traffic-light-free island, exactly 7,766 kilometres from Leiden as the crow flies. Restaurant owners laughed in his face when he asked a Dutch fee for a performance ('they didn't pay for quality at the time') but he adapted and tightened his belt. He used his last savings to buy professional sound equipment that he rented out for conferences and congresses. This proved to meet a need and a new sound business was born.
The latest big gamble
A few years later the born entrepreneur took one more big gamble: he and his girlfriend Thamara bought the food truck Cactus Blue. With 'zero catering experience' this was once again a challenge. Since the truck opened in 2016, the two often work 11-hour days. Thamara gives the lionfish fillets a thorough clean every day because, 'if American customers find a single bone they won't come back.' And Schoffelen regularly plays at a local restaurant, nowadays under the stage name of The Artist Formerly Known as Harrie. He's 'world famous on the island', he laughs.
But they don't complain about the long days. Because everything is focused on one goal: financial independence. Once they have achieved this, the couple will once again have the world at their feet. There is a real chance that they will be travelling again in a few years' time. Schoffelen: 'We might go to Asia or Alaska. I like the regular alternation between travelling and settling, that life isn't entirely fluid but neither is it entirely static.'
Never going back
One place definitely doesn't feature in his future plans: the Netherlands. 'I can be clear about that. It's never going to happen, never. There's far too much to see in the world.' That is not to say that the alumnus has completely severed his ties with home. 'I still visit Leiden every year, the city I lived in for 21 years. I like to walk past my old house on Telderskade or sail a boat through the canals. But I wouldn't want to live there anymore.'
And his lesson for current law students or young alumni? 'Life is now, not next week. Even if you don't consciously choose a certain life, you're still making a choice. So ask yourself regularly: am I still at the wheel?'
Text: Merijn van Nuland