Archaeologist Mette Langbroek works on beads exhibition: 'Humans have a special relationship with beads'
Beads are among the oldest types of human artistic expression. Even so, the small ornaments have a bad status record regarding archaeological investigation. PhD candidate Mette Langbroek, usually at home studying early medieval beads, had the opportunity to work on a publication and exhibition on 5000 years of beads from Dutch archaeology.
Into the universe of beads
When prompted, Mette Langbroek happily explains why the study of beads is important. 'Simply put, it is one of the oldest types of art and self-expression. It is unfortunate that until recently beads were only used to date archaeological layers, instead of trying to understand society.' Beads were merely used for contextual information, like assessing burials in which beads were found. 'But that is not all: beads were among the first objects to be traded and exchanged. Now we actually use these tiny objects to sketch the world that produced them.'
The National Museum of Antiquities in Leiden has a large number of beads of all eras in store. While brainstorming with curator Annemarieke Willemsen, the idea was born to organise a beads exhibition. 'Together we went through the whole collection, basically opening drawer after drawer. It was an adventure of discovery!'
Not 'just beads'
In principle, Langbroek is an expert on early medieval beads, not on beads of all eras. 'It is funny how things happen that way. My primary focus is on Merovingian beads, then I moved on to beads from Dorestad, which are Carolingian. And then there was a gradual shift to more recent centuries. It sort of happens if you do not say no.' She is happy with this development though. 'You start to see the differences and similarities, and gradual changes. People always say 'they are just beads'. That is something you say if you do not look further, if you do not look at the techniques beads were made with, or traces of use-wear on their surface. You have to immerse yourself in it.' She shrugs. 'I guess that is true for any type of specialist.'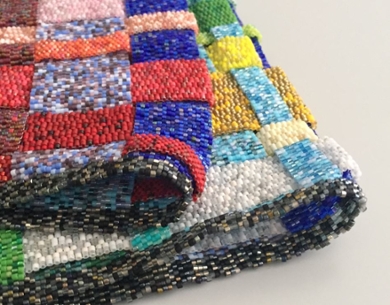 Beads in the modern era
The exhibition aims at showing the importance of beads throughout the eras, including our own. 'Humans have a special relationship with beads. For example the BraveryCords, that are given to children suffering from cancer. For each chemotherapy or treatment that is concluded, they add a bead to their string. It is a very powerful way of showing what beads can do nowadays.'
Included in the exhibition is also work of a modern artist who works with beads. 'Floor Kaspers has been mapping the pandemic with tiny beads. She weaves little squares every day and adds them to a timeline. One square showing the amount of Covid-19 infections, the other of Covid-19 deaths. This artwork is also displayed in the museum.'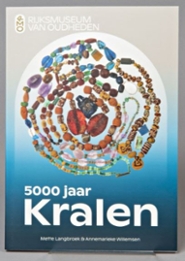 Gorgeous beads
Langbroek is particularly pleased with the book accompanying the exhibition. 'The book is beautiful, featuring many close-up pictures of beads.' Her eyes light up flipping through the pages of the book. 'These photos are gorgeous and they make the booklet very personal. Happy that we can share this with many people through this exhibition. I feel very privileged to have been asked and to be able to contribute to this.'
Visit the exhibition
From January 26 the exhibition '5000 Years of Beads' can be visited at the National Museum of Antiquities at Rapenburg 28 in Leiden until 7 May 2023.