New Student Well-Being Officer for The Hague gets started on student well-being
Student well-being is more important than ever and is high on Leiden University's agenda. There are many recent new initiatives, such as Well-Being Week and POPcorner The Hague. To streamline all these new initiatives and create new student well-being activities, a Student Well-Being Officer has recently started working in The Hague: Laura van der Plas. High time to get to know her. We spoke tp Laura about her new job, her plans for the upcoming months and what she does herself to cope during difficult times.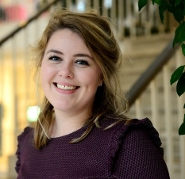 'I know what it's like to run into things during your studies and know from my own experience the importance of student well-being.'
Previous experience
Leiden University is familiar to Laura. Before completing her Master's in Public Administration in Rotterdam, she studied in Leiden where she did her bachelor's degrees in Political Science and Psychology. She also worked for two years as an assessor at the Faculty of Social and Behavioural Sciences (FSW).
When she ended up at home suffering from burnout after finishing her master's, she started working in a pastry shop. She was not really looking for a job until she came across the vacancy for Student Well-Being Officer in The Hague. Laura: 'I saw the vacancy and immediately got so excited that I thought: I'll give it a try. Now I'm working four days a week at Campus The Hague and one day a week I'm baking birthday cakes.'
Because of her own experience, she knows better than most how important well-being for students can be. 'I know what it's like to run into problems during your studies and know from my own experience the importance of student well-being. Campus The Hague is such a dynamic environment and I'm looking forward to getting started on this topic.'
Plenty on offer for students
At the moment, Laura is busy making an inventory of what is already available. The University and its faculties, study programmes, study associations and student organisations are doing a lot in this are, but so too is the municipality of The Hague. Laura: 'Supply and demand aren't very well aligned at the moment and many students don't know where to find the available activities or facilities. I want to make sure that there's a clear structure so students know where to go.'
The Student Well-Being Officer also plans to develop new activities. For the upcoming years, Leiden University has defined five focus areas for student well-being: awareness, prevention and early detection, available support and psychological intervention, development of expertise, and connection and safe study climate. The planned initiatives in The Hague will be spread across the different focus areas. For now, the focus is on connection. Laura: 'Of late, a lot of students have dropped out because, for instance, they were unable to study and meet at Wijnhaven. As a result, a lot of students were having to deal with issues such as loneliness. It's important to address these issues'.

The first project Laura hopes to launch is planned for 14 February and is themed: 'Acts of Kindness'. She hopes it will bring students closer together and show them that it is OK to ask for help.
Cross-faculty
The position of Student Well-Being Officer was created to cater to all Leiden University students in The Hague. This means that Laura will be working not only for FGGA, but also for the Faculty of Social and Behavioural Sciences and the Faculty of Humanities. The idea behind this is to align more closely with the student experience. Students are not always aware that the faculties exist as an intermediate layer between their degree programme and the University. POPcorner The Hague is also a joint initiative of these three faculties. As a result, there is a lot of collaboration between POPcorner The Hague and the Student Well-Being Officer. One of the first things they plan to develop together is a think tank where students can join the discussion on well-being and address the issues that they feel are important.
Cuddling the dog
When we ask Laura how she coped during these difficult times, she doesn't have to think very long. 'My dog and I have been spending a lot of time together lately. Cuddling her and taking her for walks makes me feel better when things aren't going so well.'
Text: Judith van Doorn
Students and staff who have suggestions or ideas on the topic of student well-being can send an email to POPcorner the Hague: popcornerthehague@leidenuniv.nl
POPcorner The Hague is located on the first floor of Beehive opposite the Wijnhaven building. 'We are a meeting place for and by students where you can meet people, follow workshops, organise activities and where people are willing to listen to what you have to say.' More information on POPcorner The Hague.