'People are equal but not the same': diversity and inclusion from a legal perspective
What is written in law and what equality, inclusion and diversity mean in practice is not always the same. This was the focus of this year's D&I symposium on 13 January. The plenary sessions were watched by hundreds of participants and there was a wide range of workshops covering different aspects of diversity.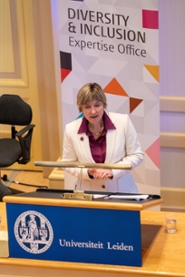 That the topic is relevant was clear from the number of registrations: over 560 people had signed up. Students and staff from not only Leiden University but also other universities at home and abroad had shown interest in this day all about diversity and inclusion. 'An annual moment to reflect,' said President of the Executive Board Annetje Ottow at the symposium. 'Diversity and inclusion are high on the agenda, not only at our university, but also in a national and international context. The symposium is a moment to look at what has been achieved already and to discuss the challenges that lie ahead.'
Bastion of Freedom
The University motto is Bastion of Freedom, but, said Ottow, with this freedom comes responsibility. 'Exercising our academic freedom cannot be at the expense of others. We don't have to agree on everything, but it is our shared responsibility to listen to one another in a constructive way. Aggression, intimidation and denigrating language have no place in our community, regardless of who you are or what your perspective is. It is a shared responsibility to promote safety, inclusion and collaboration in our learning and working environment.'
It is important to start this dialogue in the teaching too, said Joanne van der Leun, Dean of Leiden Law School, 'The student population is increasingly diverse, and we have to adapt our curriculum accordingly. You can't do that from one day to the next, so it is important to start a dialogue with different students. It is our task to facilitate that.'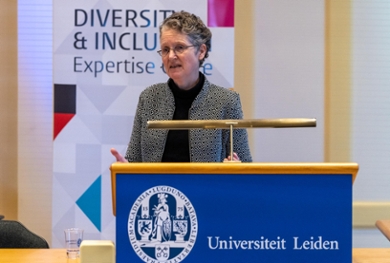 People are equal but not the same
In her speech Ashley Terlouw, Professor of Sociology and Law at Radboud University, discussed why it is so difficult to fight discrimination and promote equality. According to our constitution, we have the right not to be discriminated against, but there is a gap between the law and the practice. Terlouw: 'People are equal but not the same. There must always be room for custom solutions. We all have a responsibility to combat discrimination and to be guided by justice rather than the law alone.' In an interview Terlouw explained how universities can play a role in this.
'Exercising our academic freedom cannot be at the expense of others. We don't have to agree on everything, but it is our shared responsibility to listen to one another in a constructive way.'
Raising awareness
Diversity Officer Aya Ezawa outlined what has been achieved recently: 'As Expertise Office we raise awareness and give people tools that will help them take their own steps. Everyone can contribute to inclusion and we provide help to do so. It is crucial that people possess knowledge and that the necessary tools are available, for instance relating to the accessibility of our buildings. An evaluation by an independent agency showed that we are already doing many things well, but there were also specific points of attention. This situation has led people to want to learn more about diversity and inclusion so that they can internalise it and apply it in their daily work.'
Workshops
Alongside the plenary sessions, the participants could also attend one of the nine workshops exploring aspects of diversity and inclusion in more depth, for instance working or studying with a disability, experiencing discrimination or what it means to be the first in your family to go to university.
At the session Neurodiversity Platform: Working with Neurodiversity, the participants learned more about neurodiversity at work. They discussed statements such as whether, as a student or staff member at the University, you should tell others that you should have a psychiatric diagnosis. Those attending were not only people to whom this relates, but also various staff members who wanted to learn about the subject so that they would know how to interact with neurodivergent colleagues or students. If you are interested or have any questions, please contact the Neurodiversity Platform.
In the Affirmative action for more diversity? workshop, staff from various universities looked at not only the question of how we can recruit people from different backgrounds, but also how we can create an inclusive environment in which everyone feels at home. The aim is to give explicit attention and tools to those that need them to ensure that universities create equal access to the employment market for all.
Small steps
Although diversity and inclusion is a big, all-encompassing topic, the first steps are actually quite small. Van der Leun: 'Everyone can start small and simple. Ask a fellow student a question or as a lecturer take more time to explain how things work at the University. We have to get the conversation going.' Ottow also looks forward to taking these small steps: 'I look forward to meeting people once again. Listening to others and being open to new ideas. We have already achieved a great deal but there is still so much more that we can do.'
Panel discussion

Joanne van der Leun with moderator Jasmijn Mioch

This year's symposium was online too
Diversity and Inclusion Expertise Office
The role of the Diversity and Inclusion Expertise Office is to raise awareness, provide tools and advise on promoting diversity and inclusion, and implementing the Diversity and Inclusion Work Plan. The small team works closely with the D&I coordinators at the faculties, the expertise centres and the directorates. The symposium is an annual event that looks at diversity and inclusion from a specific academic field. This year's symposium was in collaboration with Leiden Law School and the National Council of Deans of Law. In the panel discussion the speakers considered not only the challenges that students and staff face, but also the concrete steps that the Board and Expertise Office are taking.
Text: Lisanne Bos
Photos: Monique Shaw