Introducing the new Archaeology HR team: 'I like HR to care about people'
The Faculty of Archaeology has recently welcomed two new HR team members: Isabelle Mollink and Daphne Geelen. We sat down with them to discuss their backgrounds, roles in the Faculty, and work related tips.
Backgrounds
You may already have crossed paths with Junior HR advisor Daphne Geelen. Starting at the Faculty back in December 2021, she worked together with departing HR advisor Alexia Buurman. She learned the tricks of the trade of HR at the University of Maastricht. 'I studied European Studies, though, something quite different than HR. It was only during an exchange period in France that I got interested in HR.' After moving to the Randstad, she started looking for an HR position. And she found one at our Faculty!
Isabelle Mollink's background lies much closer to home. 'I have studied HR in Leiden and I have been working for Johnson and Johnson, which is actually located at the Bio Science Park.' After her period at the developer of the Janssen vaccine, she worked for five years at BMW, the car company. 'Here I started as a HR Advisor and after three years I became a specialist, namely on the compensation and benefits topics. I longed back to the generalist function of HR, however, and found the vacancy at the Faculty of Archaeology.'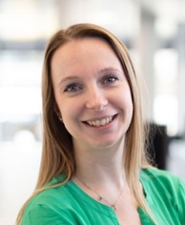 Matching organisation and people
You could say that working in HR is a calling, so what drives our new colleagues in their daily activities? 'For me,' Isabelle notes, 'it's the combination of people and organisation. The Faculty is the people that work there. The topic that I find most important is to have the organisation match with all the people working in it, in order to make the best of it.'
Daphne specifically likes the human aspect of her job. 'You work most of your life, so you should be in a good place. HR can contribute to that, makes people feel heard. I like HR to care about people.' In this respect, Daphne focuses on important issues like social security on the workfloor and work-life balance.
In-depth
So when do you contact the HR team? First of all it is important to note that administrative questions can be sent to the PSSC. 'The Faculty HR advisors will handle more in-depth questions. For example about sick leave, personal issues, work-related problems, retirement, etc.' Daphne explains. 'But we can also steer you in the right direction or listen to your story. Or just to get to know us,' Isabelle adds. The best way to reach the HR team is to send an e-mail to hr@arch.leidenuniv.nl.
Balancing work-life
Finally, we asked our new colleagues for a work related tip. 'Stay in touch with your colleagues,' Isabelle states. 'Even when working from home. Plan a video call to just have a coffee and talk about other things then work.'
Daphne's tip relates to work-life balance. 'It is very important to manage your working day. Many people work until late, especially now. It is precisely what you should not do. Sports after work can help, since you are sitting all day long.'