Jasper's day
On January 1st Jasper Knoester started as our new dean. How is he finding it? What kinds of things is he doing and what does his day look like? In each newsletter Jasper gives a peek into his life as dean.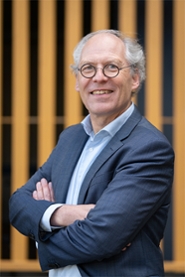 Friday 4 February
'After three days in Leiden, I'm working at home today in Groningen. I had my first in-person meeting yesterday with the Executive Board and my fellow deans. It felt great being on campus working together with colleagues, although I've also had some excellent online meetings. I started my online working day meeting a group of students from the faculty in the second session of the 'Meet the dean' series. The group was very diverse, and the session was moderated by assessor Joost. It was the highlight of my day!
I was asked what and where I would study if I had to make that choice today. That's a tough one!
In the first half-hour we had to get up to speed. Joost asked me to say something about my background and my time as a student (a long time ago, I have to say) and I answered several questions that students had sent in beforehand. The second half hour was more lively. I was asked some interesting and at times surprising things, and I also had the chance to ask the students a couple of questions. One interesting question I was asked what and where I would study if I had to make that choice today. That was a tough one! I think I'd choose another science programme. Would I? Archaeology or ancient languages would be high on my list too. And I'd want to do the study abroad. In my time that wasn't so common, otherwise I'd definitely have considered it.
The most unexpected question came from Isabelle. On behalf of Stichting Rino, she invited me to come and eat home-made ice cream with her. 'You bet,' was my answer. I love ice cream and chocolate! I'm looking forward to that and to finding out more about the different activities Rino organises.
I spent the rest of Friday afternoon preparing for next week's Board meeting, an appointment with Rector Hester Bijl, and sessions with two PhD candidates in Groningen that I'm still supervising. The afternoon ended with a visit to a favourite pub in Groningen to catch up with a colleague. It's just great that we can do that again!'