Distinguished Scholar Award presented to Jan Melissen: 'Very honoured'
Professor Jan Melissen (ISGA) is the recipient of the 2022 ISA Distinguished Scholar Award in Diplomacy Studies. It is the first time this prize has been awarded to someone in Europe. Melissen: 'I am very honoured and humbled to be the first person to receive this award outside North America.'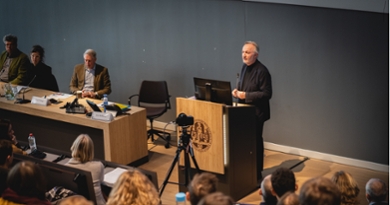 Melissen is being honoured this week at the ISA Annual Convention in Nashville. Like thousands of others, he decided to join the Convention online, hopefully for the last time, as most panels are still hosted virtual rather than in-person. According to the jury of the ISA, the International Studies Association, Melissen 'is being honoured for his substantial influence on the study of diplomacy, for his substantial and innovative research record on diplomacy, and for his impressive record of service to the community of diplomacy students and scholars.'
Panel discussion about future of diplomacy
During the convention, a panel will be held in honour of Melissen. In terms of content, the panel discussion will focus on the future of the study diplomacy. The ISA plaque that comes with the award is currently on its way from America to the Netherlands.
Not only does Melissen feel honoured, he also sees several reasons to welcome the award. 'It's good for students to know that their teachers are known internationally in their field of expertise, and it's special to receive the award four years after my full-time return to academia. Perhaps above all, I'm grateful for the award committee's reference to my service to the profession. It's a true privilege, and it gives me many ideas and tons of energy to collaborate with colleagues worldwide.'
Leiden and The Hague on the radar
For the University itself and for ISGA, Melissen believes the award is first and foremost raising Leiden's profile in diplomatic studies. 'It helps that in the past seventeen years the The Hague Journal of Diplomacy has become a brand name.' He observes that the demand for knowledge about diplomacy's contribution to international politics among new generations of students is such that, in diplomatic studies, all academic hands are needed on deck. The war in Ukraine and its lasting political consequences also seem to emphasise that point, and perhaps even more so than the international events that took place in 1989 and 2001. In a world of great powers, Melissen argues, it makes strategic sense for Europe to focus on the development of knowledge on diplomacy. As small to medium size European countries such as Sweden, Norway, Denmark, or Belgium have been consistently doing. In terms of internationally esteemed cities, The Hague surely has a competitive profile when compared to Brussels or Geneva.
More information about The Hague Journal of Diplomacy
More about the IAS and the awards
Text: Margriet van der Zee
Images: Wilke Geurds