Lena and Sophie have been selected as Europaeum Fellow: 'Excited to learn from others'
Four PhD researchers of Leiden University have been selected to participate in the Europaeum Scholars Program 2022-2023. Two of them, Lena Riecke and Sophie Vértiter, are doing their research at ISGA. Time for a introduction.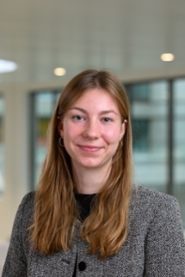 Can you introduce yourself?
Lena: 'I'am Lena Riecke, a PhD candidate in Intelligence and Cybersecurity at Leiden University's Institute of Security and Global Affairs. Growing up, I was lucky to get to know different countries and cultures. I was born in London, raised in New York, and lived in Zurich, before finishing high school in Berlin. For me, a common denominator between these places was the aspiration towards a democratic, peaceful society, guided by the rule of law and respect for human rights. This motivated me to study law at the University of Cambridge and complete an LLM in Public International Law at Leiden University. Today, I think the law does not always live up to what it promises. Too often, the values the law enshrines in principle are not actually protected in practice. By starting a multi-disciplinary, policy-oriented PhD I hope to bridge this principle/practice divide.'
Sophie: 'My name is Sophie Vériter and I am a passionate European. My family comes from all over the continent (primarily Belgium, France, and Poland), which instilled a strong cultural curiosity in me from a very young age. I like to cultivate a cosmopolitan identity through travel. It helps me to stay connected with the beauty of nature and people of all backgrounds. Over the past ten years, I have developed a strong interest in European foreign policy. When working for the EU's public diplomacy as coordinator of the 'Young European Ambassadors', I had the chance to travel to Armenia, Azerbaijan, Georgia, Moldova, Poland, Slovakia, and Ukraine. This experience has shaped my European identity. It is absolutely heartbreaking to now see the war unfold in Ukraine and I admire my friends' courage to fight for our values.'
What is your PhD about?
Lena: 'My PhD is about governing the transfer of dual-use cyber surveillance technologies (a long way of saying spyware). Past years have seen a pattern of sale of spyware by private companies to States that use them to violate fundamental human rights, such as the right to privacy. Recent revelations about the use of Pegasus spyware to spy on human rights activists, dissidents, and other public figures across the world are just the tip of the iceberg. The global surveillance industry is booming; profitable for many and accountable to none. My research aims to identify governance gaps in relation to the transfer of spyware, explain why they exist, and explore possible legal and policy responses. I am particularly interested in concepts such as good governance, accountability, and the dual-use nature of spyware.'
Sophie: 'My PhD is about the evolving notion of 'security' in Europe, how does it evolve and who influences it. More specifically, I look into the role of small states in the development of European security governance and the strategies they use to exert influence on such frameworks. Pursuing a doctoral degree is also a very personal experience: I have learned more about myself than ever before since commencing this degree. I like to see my PhD as an incredible opportunity to experiment different professional avenues, including teaching, research, consultancy, and editorial activities.'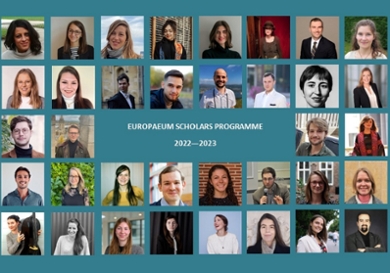 What is the Europaeum actually?
Sophie: 'The Europaeum is a university network. It regroups eighteen leading European universities and regularly organises multidisciplinary exchanges on Europe, together with public institutions and NGOs. The flagship activity of the Europaeum is the 'Scholars Programme', a two-year policy and leadership course, for which Lena and I have been selected. It is highly competitive and joins about thirty of the most ambitious doctoral students of the Europaeum network. The objective is to discuss and generate innovative ideas on the future of Europe.'
What does it mean to be a Europaeum Fellow?
Lena: 'I think that being a Europaeum fellow means using your skills, knowledge, and privilege to work towards strengthening the public good and improving Europe for future generations. The public good may mean different things to different people. It requires the balancing of diverse interests and perspectives against each other. I believe that certain core values and principles, such as the rule of law and respect for fundamental human rights, are a precondition for the public good. As a Europaeum fellow, I am excited to learn from others about their perception of the public good in Europe and to how develop tools to effectively pursue it.'
What are your personal goals during this fellowship?
Lena: 'During the Europaeum fellowship I would like to meet, exchange ideas with, and learn from the other scholars in my cohort, who come from different disciplines and universities across Europe and bring diverse perspectives and skills to the table. My goal is to collaborate with them to develop policy proposals that address the pressing challenges Europe faces today, be they threats to peace and security, the dire need for more environmental action, or the subversion of the rule of law and fundamental rights.'
Sophie: 'Europe as we know it is under threats of many forms. It worries me and urges me to work assiduously to protect the values our societies enjoy now. As a Europaeum scholar, my main objectives are to stimulate my creativity and learn from others, so that we can jointly advance policy proposals that will make a difference for Europe's prosperity and security. I am particularly keen to address the divisive and radicalising impact of the dysfunctional, business-oriented information space.'
More information about the Europaeum Scholars.