Giles Scott-Smith appointed as new Dean of Leiden University College
Giles Scott-Smith is the new dean of LUC (Leiden University College) in The Hague. He succeeds Judi Mesman and starts on 1 July. Scott-Smith: 'Joining LUC as Dean is a serious honour, and I follow in the footsteps of three Deans who I respect and admire.'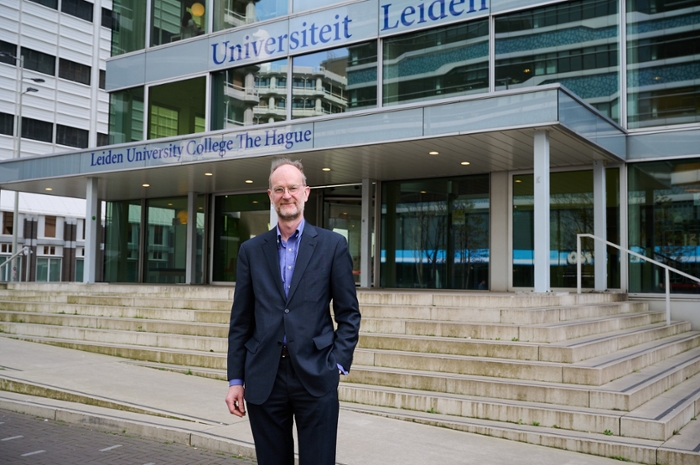 Giles Scott-Smith joined Leiden University in 2009 as the holder of the Ernst van der Beugel Chair in the Diplomatic History of Transatlantic Relations, and in the years thereafter he became a full-time staff member of the Institute of History in the Faculty of Humanities. Involved at Campus The Hague since 2012, in February 2020 he was appointed Chair of the Faculty's BA International Studies programme in Campus The Hague. He has been part of the LUC teaching team for the last 8 years, running two courses in the World Politics major. With a PhD in International Relations but gradually moving into History, over the years he has embraced a multi-disciplinary perspective that fits well with the Global Challenges framework of LUC.
Liberal arts as central to academic identity
'I consider liberal arts as central to my academic identity, having started out many years ago with a BA combining European Studies and Asian Studies. I don't identify with one single discipline, and disciplinary boundaries can anyway be counter-productive.' This multidisciplinary outlook is also reflected in his leading role for the New Diplomatic History network, and his editorship of Diplomatica: A Journal of Diplomacy and Society.
Between 2006-2012 Scott-Smith taught International Relations at University College Roosevelt, Utrecht's second liberal arts college, and gained experience there by serving twice on the College Council. 'Those were the pioneering years of the College, and there was a lot that needed sorting out. LUC is in a different phase – its qualities are established and clear for everyone.' He has also been a member of the Roosevelt Institute for American Studies (RIAS) for twenty years, first as post-doc, then as senior researcher, then as professor. His position as Roosevelt Chair in New Diplomatic History came out of the connection between RIAS and Leiden.
Stay at the top
'I applied for this position because I have a long background in liberal arts and I believe in the value of liberal arts education for the challenges we face in the world today.' What does the future hold? 'Joining LUC as Dean is a serious honour, and I follow in the footsteps of three Deans who I respect and admire. I have felt at home as an LUC lecturer despite coming in from 'outside', and I want to make sure everyone feels at home in the same way. We are all part of the leading liberal arts college in the country. Everyone contributes to that achievement, and everyone's contribution should be recognized. At the same time, it is important for every institution to remain vibrant through critical self-reflection and self-evaluation. I look forward to leading these processes and to strengthening the LUC community in this way. LUC is the number one University College in the Netherlands and the task for the coming years is not to look how we can no maintain that, but make sure everyone's contribution is recognized and I look forward to stay at the top with you all.'
FGGA Dean Erwin Muller discusses the choice for Scott-Smith. 'He has a wealth of experience when it comes to University Colleges, Leiden University, and interdisciplinary education. I have every confidence that he will be able to continue LUC's development, within the Faculty, the University, and in relation to the city.'
Images: Arash Nikkhah