Liveable Planet conference: Local policy for a liveable planet
On 14 April 2022, the Liveable Planet conference was held in Museum Volkenkunde in Leiden. Liveable Planet is an interdisciplinary programme of Leiden University that combines research from various areas to advance the transition to sustainability. The conference was held together with the Association of Netherlands Municipalities (VNG). It focussed on how local policy can contribute to a liveable planet.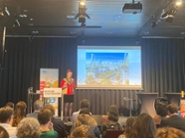 Mayor of Leiden Henri Lenferink spoke about Leiden Municipality's approach to sustainability. 'We calculate how many parking spaces are actually used. Is 20% not being used? Then these spaces will be replaced with green spaces'. Paul Hofman of Bronckhorst Municipality, spoke about how his municipality deals with controversial issues that arise from policy on sustainability. He emphasised the importance of taking all parties seriously and listening to their concerns. 'We've also had tractors protesting in front of the town hall. It was a sign that we need to listen more to our citizens. It's a difficult process, but it is important to understand the urgency of the other party and in that way to build trust. In the end, that will bring us further.'
Professor Eefje Cuppen spoke about the importance of co-creation and participation of citizens in policy related to sustainability. Her research focuses, among other things, on analysing co-creation processes in order to understand them better and thereby make them more effective. 'The tricky part of co-creation is involving all parties in the process. Is there an overrepresentation of higher educated people in the decision-making process? Is the process truly representative of the population groups and gender in the municipality? The representation of groups is essential, but a great challenge. Over-representation of a group is democratically undesirable and comes back to haunt you'. Marjan Minnesma of Urgenda talked about the local initiatives and how difficult it sometimes is to comply with all the regulations. She called on local administrators to dare to take decisions in order to facilitate the energy transition faster.
Lecture series Sustainability and Law
The conference ties in nicely with the lecture on wind turbines and citizen participation in the lecture series Sustainability and Law. Insufficient support is legally no reason to refuse permits, as long as the public participation procedures are followed, according to case law from the Dutch Council of State. But of course it is questionable whether this is also socially desirable. A blog (in Dutch) on this subject was recently published on the Leiden Law Blog.
For more information about Liveable Planet and the lunch meetings see Liveable Planet - Leiden University.