Newsletter Student Support FSW April 2022
This Student Support FSW newsletter tells you all about the services provided by the FSW POPcorner, Career Service, and Community Engagement Service. You can read about upcoming activities and vacancies, and pick up tips on study skills, personal and professional development, student well-being, study and career orientation, and job application skills. You are very welcome to make use of the services of Student Support FSW!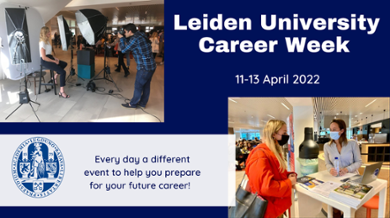 Leiden University Career Week: 11-13 April 2022
Do you already know what you want to do after you graduate? How do you find out what suits you? And how do you prepare for the labour market? Visit the Leiden University Career Week 2022 from 11 – 13 April 2022 to find out! During this 3-day event we offer an inspiring programme with various workshops and presentations such as:
Recruiters panel – What do employers look for?

Workshop Online Job interview and workshop Orienting yourself on a gap year

Alumni will share their experience regarding their careers at Nike, EY, Clingendael, Accenture, KPMG, or the Ministry of justice and many more!
Career Time
During Leiden University Career Week there are a number of Career Time moments:
On Monday 11 April there will be Career Time activities on campus in The Hague and Leiden, where you can have your CV and LinkedIn-profile checked and have your profile picture taken.

On Wednesday 13 April, from 10.00-12.00 hrs, there will be an information market in the central hall of the Pieter de la Courtbuilding (FSW). You can get in touch with different organisations that offer opportunities for side jobs, internships, and volunteering.
And yet another opportunity to have your CV and LinkedIn profile checked!
Visit the Leiden University Career Week website for the full programme.
Activities April 2022
Career and job application:

Study and Personal development: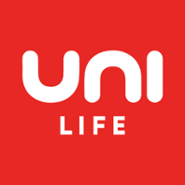 Uni-life App: all student events in one overview
Leiden University has joined the Uni-Life student app. The app provides you with an overview of all student events at a glance. And above that you can get in touch with fellow students who share similar interests through the online communities. A great way to meet new people!
Uni-Life offers a complete overview of all events for Leiden University students, from dance lessons to a poetry-writing course and student parties. The app also shows you what activities are being organised by student associations, study organisations, faculties, clubs, the University Sports Centre or other Leiden University initiatives.
Download the app in the App Store or in Google Play.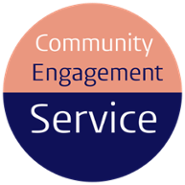 Go Volunteer!
Would you like to build up more practical experience? To develop yourself further, beyond the confines of the curriculum of your degree programme? Consider volunteering!
Volunteer work offers a wide range of possibilities, and volunteer organisations are crying out for extra hands. The Community Engagement Service FSW aims to inform, advise, and support students regarding relevant work experience (whether within or outside the curriculum), with a strong focus on volunteer work. If you'd like to start volunteering but don't yet really know what you want to do and how best to go about this, make an appointment with one of the Community Engagement Service FSW career advisors for individual advice. Read more
Student Experience
This month's student experience tells the story of Léon. Léon is a master's student in Psychology and is working as a volunteer at @Ease, where he gives psychological counselling to young people aged 12-25. Sometimes it can be comforting to talk to a stranger without feeling any obligations. At @Ease young people can walk in or chat online without an appointment to talk about anything that is on their minds. Free of charge, anonymous and without waiting list or obligations. Read Léon's story – and other stories – on our Instagram channel @study_careersupportfsw.
Vacancy Alert!
Visit the Leiden University Job portal for more vacancies!
Contact Student Support FSW
For all your questions regarding the student support services of the FSW POPcorner, Career Service and Community Engagement Service: