Ukrainian course to start soon: 'Useful for contact with refugees'
The Academic Language Centre is organising an introduction to Ukrainian with the Russian Studies/Russian and Eurasian Studies programmes. This six-part course is meant primarily for people who are in contact with refugees from Ukraine.
Alongside the language, the course will cover a number of cultural aspects. Language teacher Valeria Maiboroda: 'Dutch host families and others who work with refugees will understand the Ukrainians better. This can help build warm relationships and prevent misunderstandings.' She is keen to emphasise that the course is also just plain fun. 'Ukrainian is beautiful, melodic and poetic.'
'Ukrainian is beautiful, melodic and poetic.'
The online course is for adults who would like to learn about the Ukrainian language, culture and history. The language of instruction is English and no prior knowledge of Ukrainian is required. The students will learn the basics of Ukrainian and the Cyrillic alphabet. The emphasis of the course lies on communicating in Ukrainian in everyday situations. The course participants will also learn how to greet someone, introduce themselves and ask how someone is doing.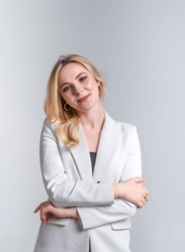 Lots of interest
Maiboroda has seen a lot of interest in this kind of course since the Russian invasion. 'I get a lot of questions about the language. Many people are helping Ukrainians and want to learn a bit of the language.' During the course attention will also be paid to specific cultural differences. 'Dutch and Ukrainian people have very different habits. Dutch people eat sandwiches at lunchtime; Ukrainians eat soup.'
Maiboroda has been in the Netherlands since the end of February. 'I'm teaching this course for Leiden University and am also helping Ukrainians with the Dutch language. I'm also still giving online lectures at the University of Kyiv, and I'm doing some voluntary work.'
Maiboroda is pleased with the increased interest in Ukrainian. 'For a long time, West-Europeans weren't particularly interested in Ukraine. It is good that that is now changing. It's nice that Ukraine is no longer somewhere "outside". People can finally get to know our country and culture. That's why I'm glad to teach this course.'