Very successful conference marks end of Integrated Project for students Security Studies
Last week, third-year students of the Bachelor Security Studies concluded a seven-week intensive programme with a two-day conference. They presented their findings in front of a full lecture hall and in the presence of the client for whom they worked on a complex security issue. Tutor Saskia Postema: 'I'm so proud of them.'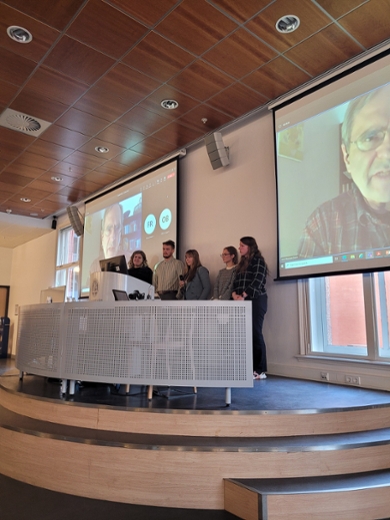 The seven-week Integrated Project 2 for third-year students is an excellent opportunity to unite theory and practice. Working in groups, students tackle a case provided by a renowned stakeholder in the field of security challenges. Scientific Director for ISGA Joachim Koops: ''What happens at the beginning is that organisations come to an open meeting. Each client sets them a task and then students form a think tank. They come up with a name and divide the work. They must write a group report and do their own work and conduct research.'
Good mix of clients
During the seven-week project, students visit the client, do interviews and conduct research. Participating organisations vary greatly and also have a wide array of questions. Stakeholders are, for example, the municipality of The Hague, TNO, HALO and CIVIC (Centre for Civilians in Conflict). Saskia Postema, who – together with the other tutors - organised this final conference: 'We try to have a good mix of clients from several types of organisations from different areas of security. We got a lot more applications from organisations that wanted to cooperate. That's a good sign. They are one by one leading organisations. They're interested to hear from students perspectives. For the students it is a great opportunity to gain experience with the workfield and integrate theory into practice.'
Present final findings
During the conference, students presented their final findings to their clients and the other students and staff. Four groups each worked on the same case from a client. Each group had ten minutes to present their final report and afterwards they received feedback and questions from the client. At the end, all the groups had to come forward and the client determined which group was the best in his or her opinion. The groups that went to work for the municipality of The Hague, for example, worked on a scenario that dealt with the radicalization of conspiracy theories and anti-government sentiments into a cult-like group. The group has occupied a park near the Royal Palace. Their online following is in the thousands and the online rhetoric is becoming increasingly violent.
Worst or best case scenario
Students had to develop different scenario's (worst/best/real case) and corresponding measures from local and national government institutions like police, The Dutch General Intelligence and Security Service (AIVD) and mental health care organizations. In this case the client, represented by Pieter and Tristan Ober, was very enthusiastic about all four presentations and reports. They really struggled to choose a winner and, in the end, both selected their favourite. As a result, the conference started with two winners.
Postema: 'I'm so proud of them. They worked so hard and learned a lot of new skills. To interact with the clients and to organise think thank meetings. We got a lot of praise for the students, the clients liked their fresh perspectives and out of the box thinking. Some of them have already given a sign that they want to learn more from the students. For example CIVIC has invited students to make a blog. For us as tutors and for me personally this conference was an inspirational and fulfilling end of this block.'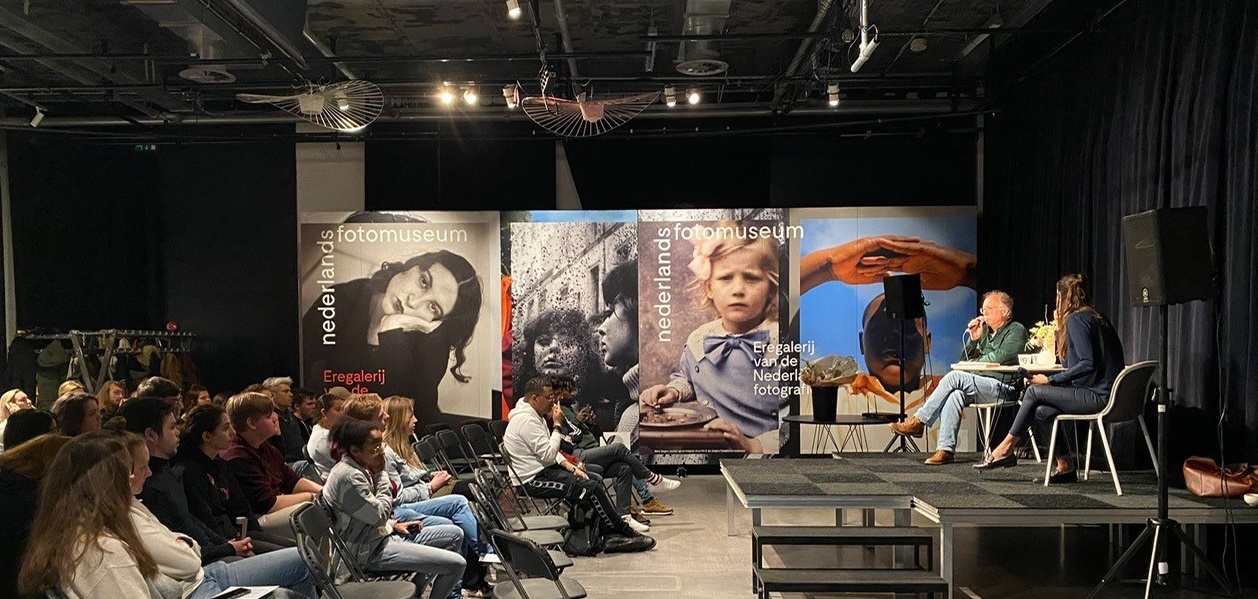 As part of the Integrated Project 1 (IP1), first year students visited the Dutch Photo Museum in Rotterdam, where currently the work of renowned Dutch photographer and 'artivist' Jan Banning is being showcased.
Students paid special attention to Banning's exhibition 'The Verdict: Beyond a Reasonable Doubt?' There was also a Q&A with Banning and Prof. dr. Marieke Liem.

In IP1, students are expected to tackle a contemporary security issue by creating an artifact based on academic theory.