Working together on a liveable planet
What can you do about sustainability in your immediate living environment? On Thursday afternoon, April 14, the Museum Volkenkunde in Leiden was filled with policymakers, researchers, entrepreneurs, citizens, students, and even the mayor of Leiden. Leiden University and the Association of Dutch Municipalities (VNG) jointly organised the Liveable Planet conference. Central to this conference were the theme of sustainability and the question how we can translate global sustainable development goals into local policy.
Working together
Henri Lenferink, Mayor of Leiden, kicked off the afternoon with an introduction to the relevance and urgency of the conference. The Municipality of Leiden is already active in the field of sustainability, for example in projects regarding the greening of the city and the strengthening of urban biodiversity. However, there is always more that can be done and the municipality is always open to new collaborations. Lenferink emphasised the value of working together on sustainability transitions and the importance of having a strong connection among residents, municipalities, organisations, and universities. The power of collaboration proved to be a recurring theme this afternoon and Lenferink set the tone for a positive, collective conference.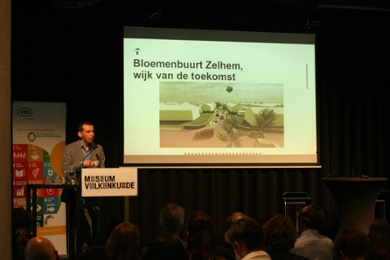 Perspective
Paul Hofman, alderman in the Municipality of Bronckhorst, contributed an inspiring presentation with some key concepts in approaching sustainability challenges. In just twenty minutes, he painted a clear picture illustrating how global goals for a liveable planet are also, or even especially, relevant at the local scale. Issues such as climate change and loss of biodiversity have an impact on each other and reinforce each other's effects: not just globally, but also most definitely on a local level. As a result, change towards sustainable systems is becoming increasingly urgent. According to Hofman, when thinking about solutions, there is a particular need for long-term perspectives in which local stakeholders have a clear goal in mind and are encouraged to think and work together. An example of such a project is a solar park that not only generates energy, but also fulfils a recreational and educational function. The coupling of functions adds value to the physical living environment and helps to actively inspire and involve citizens in sustainability transitions.
Integrated approach
Eefje Cuppen, Professor of Governance of Sustainability and member of the core team of the Liveable Planet programme at Leiden University, sees this interweaving of functions and disciplines reflected in her work at Leiden University. In her talk, she explained how within the Liveable Planet programme precisely this cooperation and diversity in backgrounds, values, and ideas form the basis of an integrated approach. Within her line of research, Cuppen highlights the added value of diversity, inclusion, and a place-based approach: she recognises the importance of looking at each place or process individually to evaluate what is going on in the local community and search for solutions together. Co-creation and participation play a central role here, but equally important are the evaluations and reflections on what does and does not work, and the learning processes that come along with this. The exchange of 'lessons learned' is crucial within the Liveable Planet programme, in which the connection between scientists and society is key.
Success stories
Two short pitches with practical examples of real-world sustainability collaborations were then presented. Esmeralda Popkema described the local implementation of the sustainable development goals in the Municipality of Súdwest-Fryslân. Key to the success of these initiatives is that they are embraced and endorsed by citizens and that physical and social goals are coupled. Popkema believes that the global goals are important, but that they should be made concrete enough as to inspire local citizens to take action. Additionally, Maarten Schrama, ecologist at Leiden University, talked about the Polderlab Vrouwe Venne: an initiative in which a network of farmers, citizens, and scientists jointly conduct research into sustainable agricultural systems. A success story of large-scale cooperation, but not without its hurdles as collaboration and innovation remain challenging and mistakes are inevitable. Dealing adequately with adversity and staying courageous enough to move forward and keep innovating is essential to the success of local collaborative sustainability projects.
Proactiveness
Marjan Minnesma, director of Urgenda, agreed with this. In her talk, the keywords proactiveness and determination took centre stage. There is not enough time to keep doubting everything, discussing the possible risks of projects in great detail, and writing comprehensive scientific reports about every potential plan. Minnesma emphasised that there are already many promising technical solutions available to mitigate environmental issues that can be implemented right now. Scientific validation can help make these solutions visible and accepted. To this extent, a stronger integration of policy, science, and practice, joint risk-bearing, and courage to change are essential.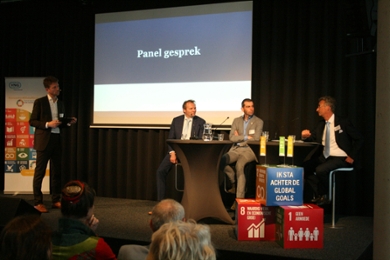 Sharing urgency and taking action
In the final twenty minutes of the conference, the previously-presented information and cases, in combination with questions from the audience, were addressed in a panel discussion. The central question in this discussion was: How can we translate the sustainable development goals into local policy? Paul Hofman engaged in this dialogue with Frank Landman, former deputy town clerk of the Municipality of Rheden, and Johan van der Schoot, alderman of the Municipality of Oss. Once again, the emphasis was placed on the highly important power of collaboration. It was concluded that it is important for municipalities to not stay within their ivory towers, but to collaborate with various local parties. A short discussion flared up about the extent to which participation should equal consensus among all parties involved. Van der Schoot emphasised that we should guard against getting lost in participation processes without clear conclusions and rapid action. Participation, it was argued, also means to jointly share urgency and to get moving.
Gathering and sharing knowledge
The afternoon ended with a call for collaboration and knowledge exchange among the various parties involved and the sharing of both success stories as well as unexpected challenges and adversaries in order to learn from each other and to facilitate, connect, and scale up sustainability transitions. The need for a platform in which such insights can be shared was emphasised. Deputy Director of VNG International Arthur Wiggers wrapped up the conference with a brief reflection on a wonderful, fruitful gathering. In line with the theme of the conference, the presenters and the audience concluded the afternoon in the museum café to reflect on the inspiring content with a well-deserved drink, after which everyone went out to enjoy the sunny evening, inspired by the many insights.
The conference can be viewed (in Dutch) via this link.
Bannerphoto: credit Suzanne Marselis
Text: Annemiek de Looze