A look behind the scenes at the Leiden Science Family Day
More than 700 visitors got to know the Science Faculty during the Leiden Science Family Day. People of all ages could enjoy fascinating experiments, tours, interesting lectures, spectacular nitrogen shows and various workshops. It was an informative day with many (future) scientists, amazement and, above all, many happy faces.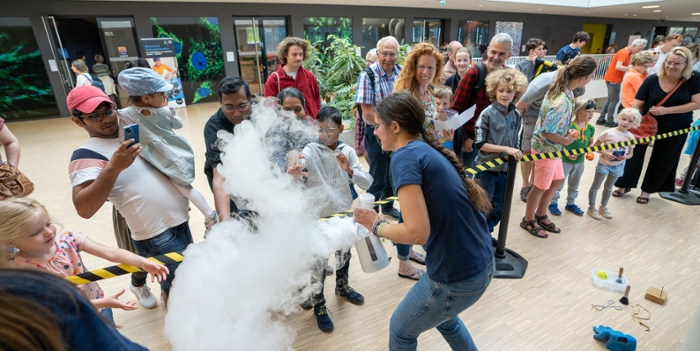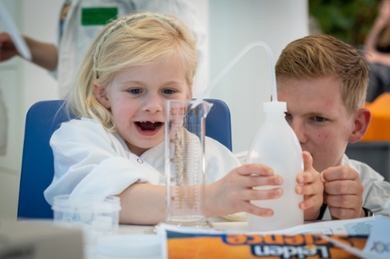 There is no better way to show what goes on behind the faculty's doors than to widely open them. On Sunday 22 May, everyone could come by to take a look at what our scientists are doing.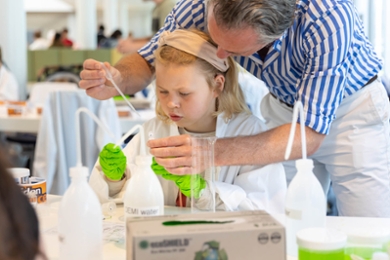 On the experiment square, children could become scientists for a few hours by doing small experiments. Wearing a real lab coat, they could make their own sticky slime or build a James Webb space telescope from Lego.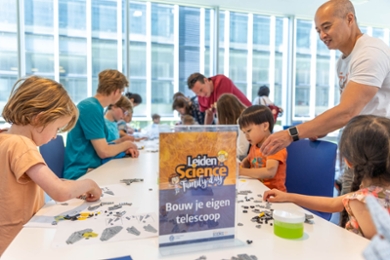 Next to that, children could colour flowers, isolate DNA from fruit, discover what you can do with light and learn how to draw with bacteria. There is no better way to understand science than to look at, feel and play with it yourself.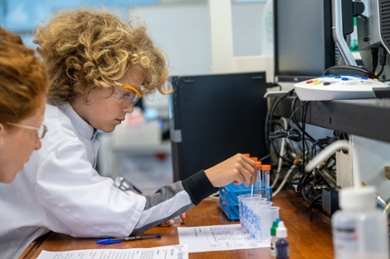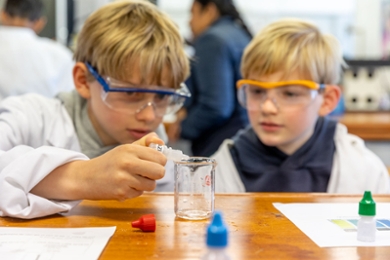 A look into the universe
Also in the Junior Science Lab, children could get to work like real scientists do. In the Travelling DNA Lab, real cells are coloured and in the workshop 'Acids and Bases' everyone learns how these counterparts can be found in everything.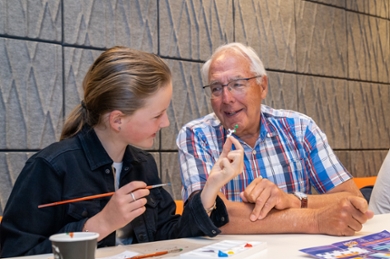 The other workshops are also very lively. In the computer room, everyone can learn how to program themselves and a bit further on, they are busy building colourful microscopes out of Lego.
Isabella proudly shows her grandfather a molecule that she is making herself during the workshop 'Make your own molecule'.
To find out where the constellations are in the sky at night, what a black hole is and how the sun, moon and earth influence eachother, you could go on a space journey in the mobile planetarium. 'Why does it stay light longer in the spring than in the winter?' a girl asks. 'Just take a look,' said the student assistant while she showed how the earth rotates.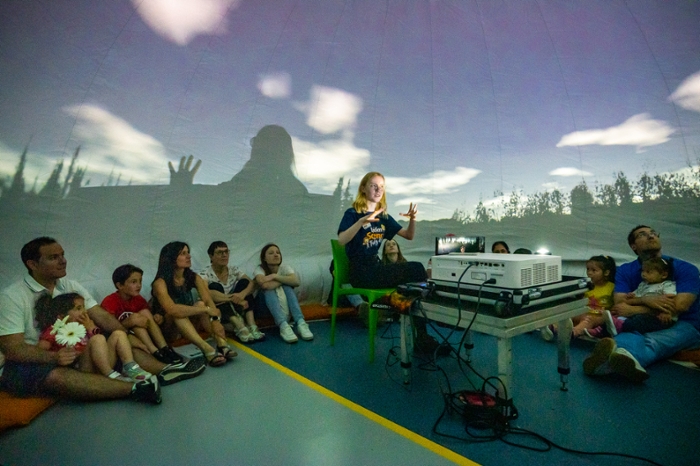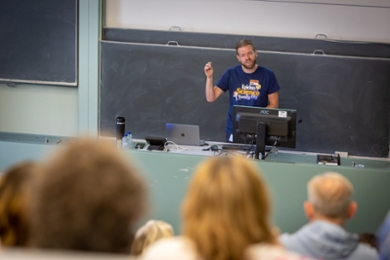 James Webb for kids
For those who wanted to delve deeper into a subject, there were also several lectures by prominent professors. Gerard van Westen, for example, explained how smart computer programmes and algorithms can make new medicines more efficient. And Carlo Beenakker took you into the world of quantum. To learn more about sustainability research in the outdoor Living Lab, you could attend the lecture of Martina Vijver. Suzan Verberne gave an introduction to the wonderful world of artificial intelligence.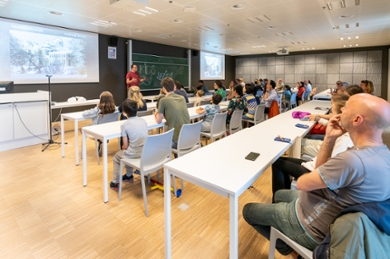 Children also had the opportunity to be immersed in astronomy during the children's lectures. Scientist Anthony Brown explained why studying light is so important for astronomy. And Professor Ewine van Dishoeck gave a children's lecture on the operation of the James Webb telescope!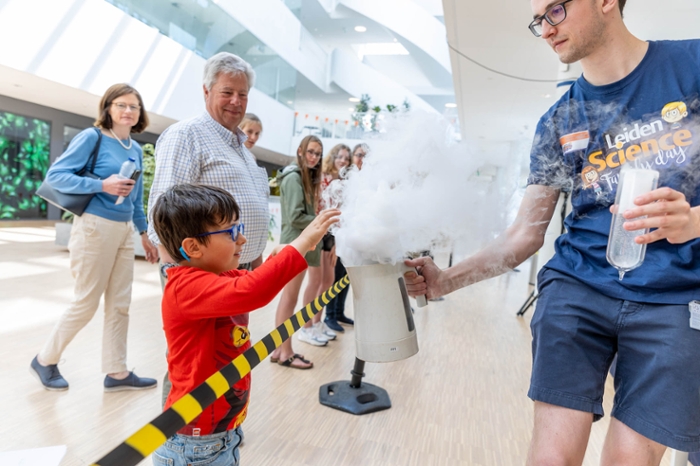 Playing with nitrogen
On the first floor of the atrium, eyes opened wide during the shows with liquid nitrogen by the Rino Foundation.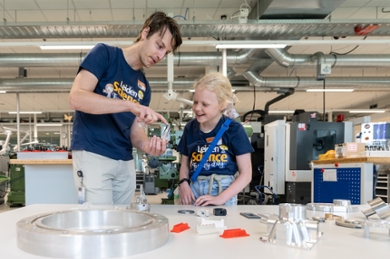 The physics students turned the show into a true spectacle with all sorts of crazy experiments. Young and old enjoyed themselves and asked fun and interesting questions.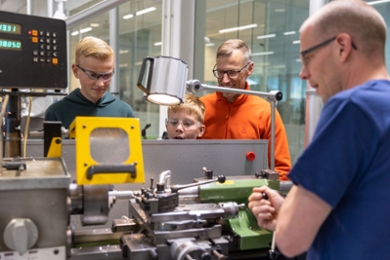 The biggest and coolest electron microscopes
In order to give everyone a greater insight into the special places of the faculty, there were a number of guided tours. With explanations in both English and Dutch, visitors could see with their own eyes what happens in the measurement hall, one of the most vibration-free places in the world. And at NeCEN, visitors could take a look at the biggest and coolest electron microscopes.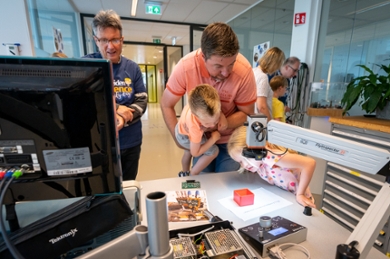 The doors of the Fine Mechanics and Electronics departments were also open. There, the materials that scientists need for their research and experiments are built.
It was a wonderful and educational day! We would like to thank everyone who participated. More photos and a video of the event will appear soon on our website.