Alumnus Adrian Young gives lecture on cultural heritage to AHK students
On Monday 9 May, IIASL alumnus Adrian Young gave a very satisfying cross-disciplinary session between law and the arts, on the preservation of heritage in space.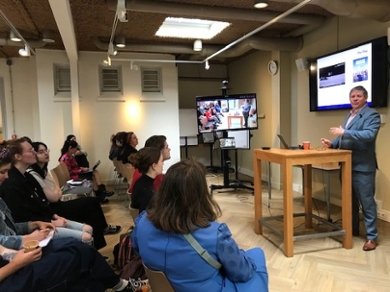 The International Institute of Air & Space Law at the Law School was contacted by the Reinwardt Academie (part of the Amsterdam University of the Arts) as their second-year students studying cultural heritage had been given a number of study subjects for further research.
One of these was the preservation of heritage in space. As this topic was researched by Adrian Young during his Air & Space Law studies, he presented his thoughts to a group of about 15 students in mid-May 2022. The Reinwardt students had a good grasp on issues around regulating non-sovereign territory and the fundamental differences between making law and policing it.
The discussions about what constitutes human heritage as opposed to cultural heritage when the notion of nationalism is removed from the matter were very lively. At the end of the hour, we were all in agreement that it was not necessary to declare both of the two golf balls on the moon as heritage items; one at the most will do.