Anne Dirkson wins Krijn Rietveld Memorial Innovation Award 2022
The third edition of the Krijn Rietveld Memorial Innovation Award was won by Anne Dirkson, former LIACS PhD student. During her PhD she researched the automatic collection of patient experiences from online forums. 'With this work, Anne has shown how the exchange of knowledge between medical professionals, patients and researchers can become a closed circle,' said the jury.
When Anne Dirkson heard that she had won, she was initially overwhelmed, but this quickly turned into joy. After two years of working from home, this award was exactly what she needed. 'When you work in the office with colleagues or talk to patients, you often get the feedback that you are doing meaningful work. Now I've been holding that realisation up on my own for about two years. So it's nice to receive recognition for my research in this way,' says Dirkson.
In memory of Krijn Rietveld (1956-2018), the Leiden University Fund and Royal DSM have established the Krijn Rietveld Memorial Innovation Award. Launched in 2020, this annual award is organised to reward excellence in innovative research, while contributing to a more sustainable world.
Side effects versus bite-sized handles
Dirkson has spent the past four years researching patients who share their experiences online. On internet forums, patients often talk about side effects of medication and share tips that make their illness more tolerable. 'The aim of my research was to develop methods that automatically extract this valuable information from such conversations,' explains Dirkson, 'For example, we can discover unknown side effects or offer bite-sized handles to patients.'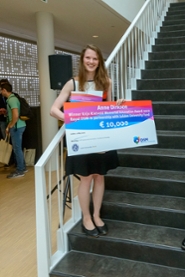 Good for patients and researchers
Guidelines such as the advice that patients give each other about side effects. 'Patients regularly tip each other about how fellow patients can best deal with, for example, fatigue or nausea. This information is of added value for patients and researchers. For patients, because from now on we can inform them directly about this. For researchers, because they can then check how exactly the side effects are mitigated by the advice, and whether that might affect the effect of the medicine, for example.'
More efficient than surveys
Dirkson's research lays the foundation for the automatic collection of information for many different diseases. 'Although I only focused on one condition in my research, the method can be used much more widely. That works a lot more efficiently than conducting surveys, for example. This is also good for the patients, because they probably have other things on their minds.'