Alumnus Asa Splinter: 'LGBT+ identities are not a burden but a source of inspiration'
Even as a teenager Asa Splinter was determined to study Japanese in Leiden. A HAVO diploma and a change in legislation threatened to throw a spanner in the works, but Asa persevered. After ten years of studying, Asa obtained a master's degree in Japanese and was nominated for the IHLIA thesis award for the best thesis in the field of LGBT history in the Netherlands and Flanders.
'When I was about fourteen years old, I became interested in Japan. This interest was mainly, probably predictably so, sparked by anime on television, such as Pokémon,' says Asa. 'What interested me most about Japan was the prevalence of androgyny in manga and anime. Handsome boys in dresses or cool girls in male school uniforms: the possibilities seemed endless. When I later discovered that Japan had a long history where sex between two men or two women was not forbidden, I decided I wanted to do Japanese Studies. I wanted to learn the language so that I could live in Japan.'
Asa knew straight away that they wanted to do the bachelor's Japanese Studies at Leiden University. 'My boyfriend was living in Leiden and I really liked the city.' Because Asa had a HAVO diploma (higher general secondary education) rather than a VWO diploma (pre-university education), it was not possible to enrol immediately after finishing secondary school. 'This is why I decided to do one year at an art academy, get a first-year diploma and then go to university. But it didn't work out in my first year.' And the second year was a struggle as well. 'In the end, I had to do an alternative assignment to get my first-year diploma, but then I figured that I might as well finish it.
Delay of ten years
That decision had lasting consequences, because right around Asa's graduation the law changed. If you started a second study after completing a bachelor's, you had to pay the institutional tuition fees. That amount was too high for Asa who then, after one year of working, decided to move to Belgium to study Japanology at KU Leuven. I wanted to do a master's in Japan afterwards, but I only just missed out on a scholarship. Fortunately, I found out that I could still do a master's in the Netherlands at the regular tuition fee.'
Asa enrolled in the master's programme, moved back to the Netherlands and finally, after more than ten years, was able to say what had for many years been a dream: 'I am studying Japanese in Leiden'. The second dream came true too: living in Kyoto with their partner. But after one year, they decided to return to the Netherlands. 'My father-in-law had a heart attack when we were in Japan. Fortunately he survived, but at times like those you really discover how difficult it is to live far away from friends and family. My partner was also offered a PhD position in Tilburg, so in the end we left Japan for practical reasons,' Asa explains.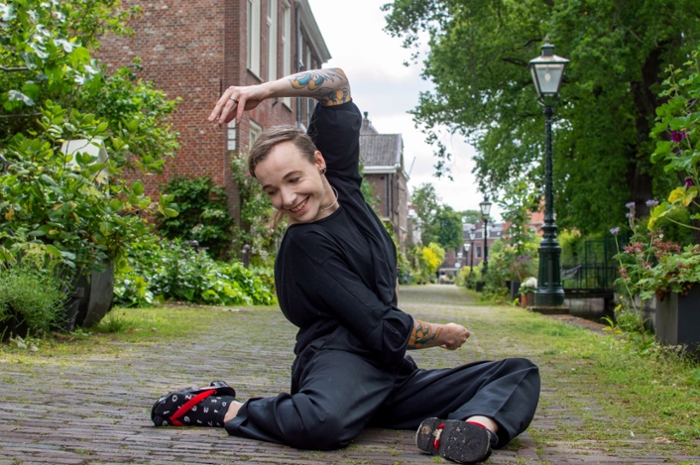 'Turn to history to become more inclusive'
Three days before the Netherlands went into lockdown, the couple moved back. By then, Asa already started working on a thesis about the representation of intersex people in Japanese art history. 'There was a print of an intersex person in the book Japanese Erotic Art by Ofer Shagan, and the author mentioned that there are only a few such prints. I wondered, "Why is that?"'
'I eventually concluded that intersex persons are still largely ignored in research about gender, sex and sexuality, while we can learn a lot from them about attitudes towards male-female social constructions. In the past, bodies that were not seen as either male or female were regarded as something to mock or pity, or as a subject of erotic fantasies. By looking at history, you discover that gender diversity is not a modern concept. I want to see a future in which people are judged for who they are, not what genitals they were born with.'
From business ventures to literature
Asa's findings earned a cum laude distinction and third place in the IHLIA competition for the best LGBT+ thesis. They are currently looking to find a PhD position to further expand this research, but that does not mean they are just twiddling their thumbs in the meantime. 'During the lockdown, I started Be Queerful, a coaching programme to help with self image and nutrition. With my online yoga classes, I want to help LGBT+ people to enjoy movement again. Because of PE classes at primary school and bullying, for years I thought I wasn't good enough. A lot of people share that experience. That's why I want to show others that they are good enough. I'm currently also working on a novel that has no personal pronouns in it. Difficult? Not as much as you might think. I've already managed to write 100,000 words.'
As part of the IHLIA thesis award, an article based on Asa's thesis will be published in the journal Historica. It is set to be released in October.