Biology brothers write book about nature and adventure in Eastern Europe: 'I didn't know there live pelicans in Romania'
With a self-converted red camper van, biologists and twin brothers Kevin and Marvin Groen go on a nature adventure in Eastern Europe. Together, they search for wild animals, beautiful nature and places to sport. From a long search for a bear in the Slovakian wilderness to the discovery that pelicans and dolphins live in Romania. With the book 'The wild wild East', the brothers want to inspire readers to travel adventurously and to appreciate the nature around us more.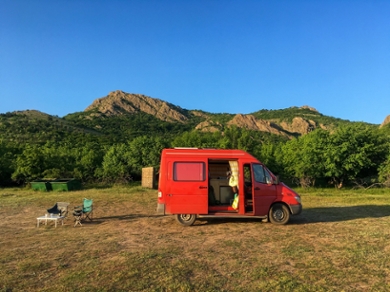 Travelling together in a small camper for three months is not easy, but fortunately the twin brothers are used to a lot. 'We slept together in a bunk bed until we were eighteen. So I'm used to the smell of Marvin's sweat,' says Kevin while laughing. 'When it comes to animal spotting, sports and going into nature, we get along really well.'
Kevin is doing his PhD on Molecular Ecology at the Institute of Environmental Sciences (CML) and Marvin works as a city ecologist in Rotterdam. In addition, they run the company De Gebroeders Groen together. 'We give excursions, lectures and write blogs about interacting with (urban) nature.'
'Deserted and very cool'
After the Rotterdam publisher Fjord suggested that they work on a book together, the brothers took off. 'Just before Corona, we bought a camper and converted it ourselves. We really wanted to go to Eastern Europe, where nature is still really wild. The idea was to visit all the nature reserves in the region and write down everything we do, see and discover.'
In search of wildlife, the best places for a nature adventure and with plenty of sports equipment, the brothers set off in March 2021. 'Because of Corona, most borders were still closed and tourism was not happening. Everything was completely deserted, but that made it very cool.'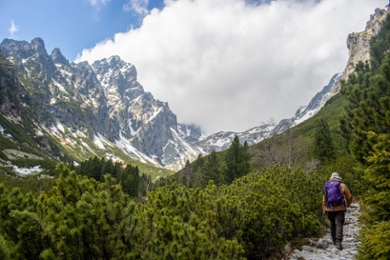 'Here you can still have a real adventure'
They come across beautiful places full of unspoilt nature. 'You can visit parks where nobody goes and where you experience a real wilderness feeling. In the Netherlands all nature is strictly regulated and managed, but here you can still have a real adventure.' Their favourite country? 'That is definitely Romania! It feels like a Mediterranean country in Eastern Europe. It consists of many forests and is sparsely populated, but above all there is a great diversity of species that you don't see in Western Europe. There are tortoises, dolphins and pelicans. And apart from that, it's just wonderfully warm.'
Many different ecosystems
The brothers are therefore surprised that the country is not a popular holiday destination. 'Only 4% of all Dutch people go on holiday to Eastern Europe. It is not as far away as Southern Spain and it is incredibly beautiful. You have to like wildcamping because there are not many campsites. You see so many different ecosystems when you drive through Eastern Europe. In our opinion, it is cooler and more diverse than Portugal or Spain. In Hungary, for example, you have the Poesta, an enormous expanse of steppes with a high water level.'
Looking for a wild bear
As biologists, the brothers like to explore the wild animal life. They saw and photographed moose, small animals such as Slovakian siskins, the endangered tatragems and many more. 'But we really couldn't return before seeing a European brown bear.' Although Romania is famous for bear watching, they did not want to do it the tourist way.
'For example, you can sit in a cabin when they are feeding bears. You can see them there, but they are no longer really wild. And because they are fed all the time, they no longer hibernate and they lose their 'purpose' in the ecosystem. For example, they eat less blueberries, so the berries are also spread less.'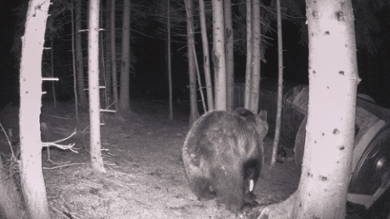 Finally a bear!
After many failed attempts with a bear guide and others, they had to try another way. 'The guide had given us some tips. We ended up spending two nights next to an abandoned container and took turns watching,' says Kevin. 'At ten o'clock in the evening I heard rumbling and there was finally a bear. I quickly woke Marvin and tried to take a picture. He was soon gone again, but luckily we also have footage from the wildlife cameras that we hung up.'
Support to Land van Ons
The adventure results in a thick book full of photos, tips and tricks for going into the Eastern European nature. 'It's not a Lonely Planet or a field guide, but it does contain a lot of tips on beautiful and nice places. And of course explanations about nature.' Because travelling by camper does produce emissions, the brothers wanted to compensate for it.
'At first we wanted to plant trees, but it actually helps more to make intensive farming more bio-diverse. So we asked Land van ons, an organisation that promotes biodiversity by buying up agricultural land, if we could contribute to that.' The organisation wanted to build a nature-friendly hedge, so the brothers decided to pay for it. 'One euro from every book goes to Land van ons. And in the area where the hedge was planted we are both also doing research for Leiden University's Polderlab.'
Challenge for adventure
In any case, the brothers have a nice memory of their trip with the book. 'I always like books that challenge or inspire me to go on a journey or adventure,' says Kevin. 'We hope that this book will inspire readers to get outside more and learn more about nature. That way we learn to appreciate everything around us more and maybe deal with it better.'
Text: Inge van Dijck
Pictures: Gebroeders Groen
The book The Wild Wild East is for sale in several bookstores and on the website of the publisher Fjord. It is written in Dutch.
ISBN 9789083014890
€25.00