Out now! LEAP # 2: (Mis)Reading Nature
LEAP is a peer-reviewed journal founded in 2021 by a team of junior and senior scholars of Leiden University as part of a Faculty-broad Master course. Each year the journal has a new editorial board and a new theme. Series editors Astrid van Weyenberg  and Nanne Timmer guide this process and are assisted by editor Anthony T. Albright and a group of excellent peer reviewers from the Faculty of Humanities.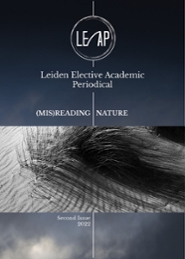 The (Research) Master students who made up the editorial board for the second edition of the Leiden Elective Academic Periodical (LEAP) approached the theme of "nature" from their unique disciplinary interests. Now, after a semester of intense work and collaboration under the supervision of Astrid Van Weyenberg and Nanne Timmer, they are proud to announce the second edition of LEAP, titled (Mis) Reading Nature! During the launch on 22 June 2022, the first copy was handed to Laura Bertens, an art historian with a keen interest in the environmental humanities. Sanne Arens, who manages numerous teaching innovation projects within the Faculty of Humanities and without whom LEAP would never have been founded, was invited as a special guest. The second edition of LEAP explores the complex interrelatedness of "nature" and humanity and our inherently limited understanding of both. It takes an interdisciplinary approach and brings different genres together: academic articles are interspersed with artistic submissions, creative writing, and an interview with Isabel Hoving.