Rose Vossen wins Young Star Award 2021
Rose Vossen has been named winner of the Young Star Award 2021. The Life Science and Technology student received the award on Monday from Ewine van Dishoeck, the founder of the award. Vossen wins a cheque for 2,500 euros for her exceptional results as a bachelor's student. During her final bachelor project, she investigated which changes in the DNA cause very high efficiency in isolated baker's yeast mutants.
Under the pretext of a S.V. LIFE board meeting about finances, Vossen was lured to the atrium in the Gorlaeus Building on Monday. But nothing could be further from the truth, because instead of a meeting, a surprise ceremony with cake and champagne awaited her. Under the watchful eye of the jury members, teachers and friends, Vossen accepted the prize. The prize money is provided by the Van Dishoeck-de Zeeuw Fund, a named fund of the Leiden University Fund.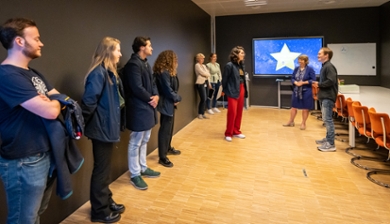 Vossen got one of the highest marks ever
During the laudation, Robert Mans, a TU professor, praised Vossen for her boundless dedication: 'When you came to me looking for a place for your BSc final project, I was immediately blown away by the extremely good results you achieved in my subjects.' Mans had a problem, because there were no supervisors left to organise an extra project. Fortunately, that was solved quickly. 'After consulting with my colleague Rinke van Tatenhove-Pel we decided that with you we would dare to go on the adventure and act as your direct supervisors.' That Mans and Van Tatenhove-Pel did not regret their decision was clear from the final grade Rose received for her final project: a 9.5. One of the highest marks given by teachers for a BSc final project in the past fifteen years.
Difficult choice for the jury
Besides Vossen, Flory Olsthoorn (Biology), Daan Hoogers (MST) and Koen Schouten (Physics) were on the shortlist for the Young Star Award 2021. The jury found it difficult to make a choice, but in the end pointed out Vossen as the rightful winner. 'I'm really surprised, I fell for it,' said Vossen. 'And you all knew about it!', she laughed, pointing to her fellow board members and boyfriend. 'I think winning this prize is really an honour, thank you very much!'