Alexander Dencher: 'I want to give new elan to the study of applied arts'
A successful series of lectures on interior design, a symposium on four-poster beds and a new series of study afternoons on the horizon. University lecturer Alexander Dencher knows how to hold the attention of a growing audience. How does he do it? And what makes the history of interior design so fascinating?
'I've always been fascinated by old houses and interiors; in real life, but also in films and books,' says Dencher. 'I find the idea of the interior as an ensemble particularly interesting. When planning to restore old buildings to their former glory, the question is always whether it's just about the exterior or also about the objects inside. This question becomes even more complex when you consider that the interior is not a fixed unit, but a collection of various objects. This means that you need specialist knowledge.'
Dencher found that knowledge in Leiden, where he studied what was then called Art History and Archaeology. In Leiden we have a very long-standing tradition of studying applied arts,' he says. 'Almost all large museums and auction houses that have a department for applied arts have people who studied in Leiden on their staff.' Dencher, too, found his way to a cultural institution. After a part-time job at Sotheby's and an internship and job at the Louvre in Paris, he now works as assistant curator of furniture at the Rijksmuseum.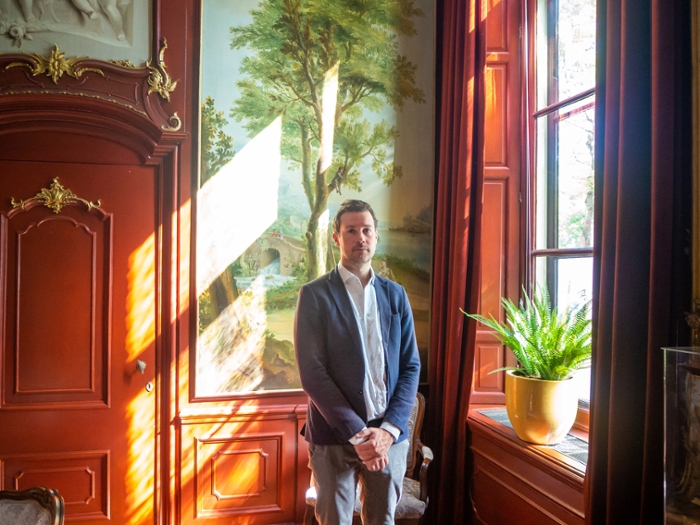 Reciprocity between university and museum
'There's a good level of interaction between the university and the museum,' he says. Thanks to that reciprocity, he can use knowledge he acquires at the university in his work for the museum, while using the museum's public focus at the university, in the Interiors for Display lecture series, for example. 'I was able to organise these lectures with the generous support of my institute, the Centre for the Arts in Society (LUCAS). It has been very fruitful: every lecture, we've had between three hundred and six hundred online attendees. It may have been one of the unforeseen advantages of COVID that I was able to reach a lot of people who, in normal circumstances, wouldn't have attended. It also showed me that the general public is not afraid of specialist knowledge. Of course, it's a rhetorical task to explain something complex in simple terms, but everyone has an interior at home, don't they? If you talk about something with dedication and passion and choose the right angle, it's always appealing.'
That is why Dencher is already thinking of organising a sequel to his popular lecture series. 'In the coming academic year, we hope to organise study afternoons in Leiden together with the Rijksmuseum, during which we will highlight specific themes, such as textiles or ceramics. Studying physical objects is very specific to art history. Students ask completely different questions if you take them to observe an object from up close compared to if they were in a lecture. I think it's inspiring to help people learn how to look closely and describe what they see.'
Story to share
What does Dencher ultimately hope to achieve with his activities? 'I want to give new elan to the study of applied arts in Leiden. When I was a student here, there were four or five people working on it almost full time. Now I'm left with just one associate professor. Of course everyone fights for their own interests, but I feel strongly that I have a story to share.'