Beadles meet up on Beadle Day: 'Move with the times without losing sight of tradition'
It'll be a sight to behold: 54 begowned beadles striding through the streets of Leiden. The beadles from 14 universities will gather in Leiden on 25 and 26 August for the 30th National Beadle Day.
This year's Beadle Day has mainly been organised by Leiden beadle Tineke Schutte. 'It'll be an extra special celebration because it's the jubilee edition and the first Beadle Day since coronavirus,' says Schutte.
Each university gives its own shape to the role of beadle. At the meeting the beadles will have the chance to discuss guidelines, protocols and other practical matters concerning the organisation of PhD ceremonies and inaugural and valedictory lectures. 'It's good to meet up and connect,' says Leiden beadle Erick van Zuylen.
On the Friday the beadles will discuss the latest developments in the profession during the official meeting in Pieterskerk church. Van Zuylen: 'During covid in particular, the protocols had to keep being changed. About 75 per cent of PhD ceremonies are now hybrid. That's something that's here to stay. We've also invested significantly in the technology.'
'Everyone's dairy is full and the pressure is rising.'
Beadles face the challenge of moving with the times without losing sight of tradition. 'Diversity is an important theme. Can you still call out "Mr X, the candidate", "Ms X the candidate" and "ladies and gentlemen"? That's under discussion.'
Another topic the beadles will discuss is the increased number of PhD ceremonies. Van Zuylen: 'There's an incredible number of PhDs being done. When I started in 2016, we had 400 PhD ceremonies per year; now it's 460. It's getting busier all the time.' This makes it harder to schedule the ceremonies. 'Everyone's dairy is full and the pressure is rising.'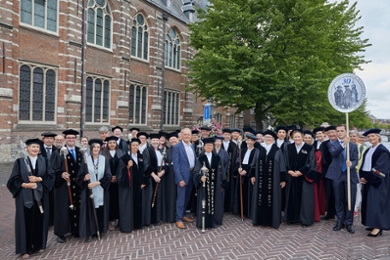 Beadle Day isn't just an official meeting and the chance to exchange experiences; it is, above all, a get-together. Schutte: 'We finally have the chance to meet up. And we'll show the beadles our beautiful city and university.' The programme includes a walk through the Hortus botanicus, a boat trip from the Old Observatory and a walk round the Burcht. One of the highlights is the photo opportunity with the Rector Magnificus and all the beadles in their full regalia.
Text: Tom Janssen
Photo's: Jos Kuklewski