Minister Dijkgraaf visits OWL international introduction week
On Monday, Minister of Education, Culture and Science Robbert Dijkgraaf attended the start of Orientation Week Leiden (OWL), the introduction week for international students at Leiden University. He welcomed the students and spoke with them about their ambitions and the problems they face.
The new international students gathered in groups at Lammermarkt at the start of the afternoon. Some looked somewhat surprised when Minister Dijkgraaf and Rector Magnificus Hester Bijl introduced themselves and welcomed them.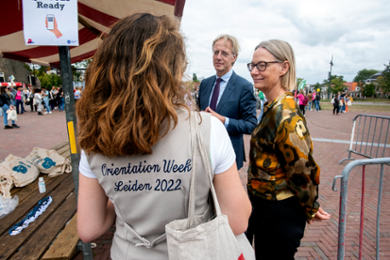 'It's special to meet these students on perhaps the most important day of their student lives. To hear their concerns and see what the University has to offer them,' said Dijkgraaf. Both the minister and the rector went round the different mentor groups and asked the new students about their home countries, their studies and why they chose Leiden University.
'We're really proud of this new group of international students, many of whom bring different experiences and perspectives to our classrooms, thus enhancing our teaching and research,' said Rector Magnificus Hester Bijl. 'I'm also impressed by their great drive and motivation. As a university, we obviously need to be aware of the challenges they face, and help where we can.'
Walk
During an introductory walk around the city, the students spoke about the problems they face in their new city. Some still don't have a room and are sleeping in the University Sports Centre during the OWL. Dijgraaf said he understood their concerns.
The procession with the minister, rector magnificus, OWL mentors and dozens of international students stopped at De Morspoort, De Put windmill, the University Library and the Academy Building. The students heard about Leiden's history and there was also time for several photo opportunities.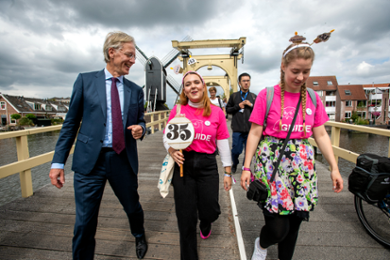 Dijgraaf also visited Plexus Student Centre, where he spoke with international students who have been studying in Leiden for a while already. He asked them to speak with 'Dutch directness' about their time in the Netherlands. These students also had great difficulty finding accommodation and faced bureaucratic problems with arranging insurance and health care. What they really like about Leiden is the high-quality teaching and research at the University. 'You can always approach the professors and ask for help,' one of them said.
Important contribution
The minister asked the students what they plan to do after their studies. Dijkgraaf: 'The students I spoke to would like to stay in the Netherlands. They are highly educated people who can make an important contribution to our society. I see it as a big bonus that we are able to attract these students to the Netherlands. They searched the world for the best programme and ended up in Leiden. If we can keep them after their studies, I will be doubly happy.'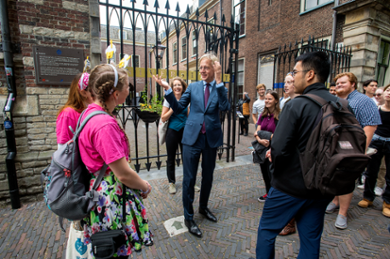 Dijkgraaf also spoke to student support staff about how they try to help international students. 'Some students start in Leiden with a lot of personal problems. Then it's almost impossible to study,' said study adviser Jennifer Martin. That's why online guidance starts immediately after enrolment, even before new students come to the Netherlands.
At the end of the afternoon, the minister said the conversations had given him a better idea of 'the benefits and concerns' of the international student programme. 'We want to see the bigger picture. What does it ask of us and what do we get in return? That's the big question that we in the university world have to ask ourselves. We are all searching, but I'm glad to see the value international students bring to the University and our country.'
Text: Tom Janssen
Photos: Marc de Haan