The Hague Centre for Strategic Studies and FGGA students are a match made in heaven
Trail, FGGA's internship platform, will be one year old in November. It is therefore high time to get to know the organisations and companies that use Trail. What do these organisations stand for? What work do interns do? And what do FGGA students have to offer?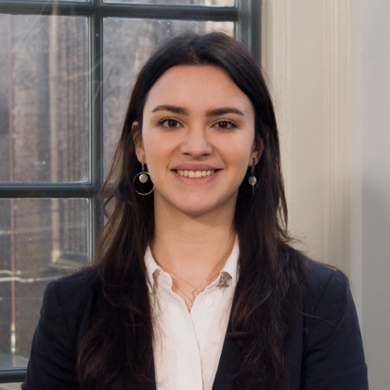 For this interview we talked to Irina Patrahau, strategic analyst an internship coordinator at The Hague Centre for Strategic Studies (HCSS). HCSS conducts research and provides advice on topics such as defense, security issues and geopolitics. They give advice to governments and the private sector.
How would you describe HCSS?
Patrahau: 'We're an independent think-tank. We do research for different governments, international institutions, but also for the private sector on different topics. We've worked with NATO, but also for the Ministry of Defense for example. We do research for them on a variety of different topics, such as security issues, international resources and global politics in general. We're a small organization with a permanent staff of, I think, around 25 people. We have a fast-paced environment, because the projects have tight deadlines and budgets. The organisations, for example governments, come to us when they're struggling with a specific question. They want to develop policies or strategies, but that can't wait for too long. That makes the work very dynamic and interesting.'
What is the reason why those organisations, for example ministries, ask you to do research for them?
'Organisations come to us for strategic research on emerging trends and events, to translate specialized research into practical recommendations and advice. In this way, they can take a broad range of perspectives and arguments into account when developing policies.'
Are (FGGA)interns helping with research too?
'We have a lot of interns from Leiden. Currently we have a student who studies International Relations and Diplomacy. Most of the tasks of an intern are doing data collection and analysis, so pretty much research. They can do literature reviews or even write parts of a report. It's also an opportunity to expand your network, because we organise a lot of workshops and events. Interns have the opportunity to help organise those events, but also to have an active role at those events and during meetings.'
'We also have different kinds of internships, such as a PR internship. When you want to help with writing LinkedIn messages, Twitter messages or making sure the reports look more appealing, you can choose for this kind of internship.'
Is there a reason why you are looking for FGGA interns?
'In general, people who study something like Public Administration or International Relations and Diplomacy, have a strong analytical basis. They already have good research, writing and communication skills. They study what we do here at HCSS and in that sense it's a match made in heaven. We're sure that a student of FGGA or similar faculties already has that basis.'
Would you also recommend FGGA-students to other organisations?
'The students from FGGA that we've had were very good students. We would definitely recommend those students to other companies.'
Text: Abdelkarim Megaïz