Thousands of new students start an old-style EL CID
Smiling faces, a mass dance and a bit of awkwardness: after two 'corona editions' of EL CID, the Leiden introduction week is back with a vengeance this year. A total of 3,412 first-year students from Leiden University and University of Applied Sciences Leiden, accompanied by 486 mentors, started EL CID this week.
The introduction, from 15 to 19 August, opened on Lammermarkt on Monday. Flamboyant signs helped students find their group for this EL CID. Each group consists of students who are starting the same degree programme. Studying in an often unfamiliar city, meeting lots of new people and in some cases leaving home: it's a nerve-wracking experience. For the mentors, the main thing was to break the ice.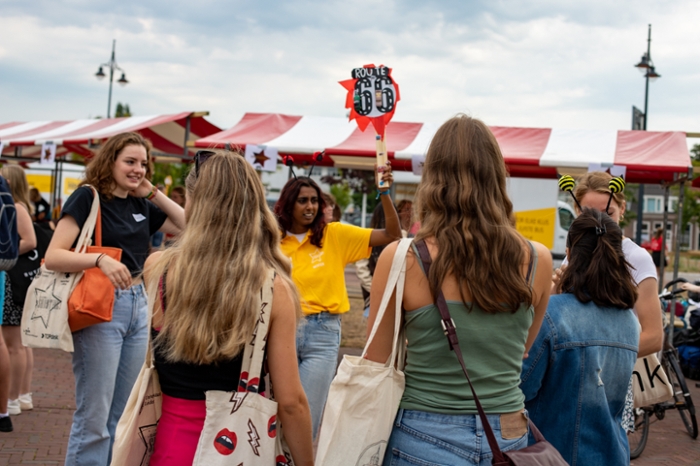 This is Haike's first time as an EL CID mentor, whereas Jayme did it last year too. But with covid, the programme then was partly online. 'It feels like the first time. There were still loads of restrictions last year. But now it's completely free again, which is amazing,' says Jayme. Haike can already sense that EL CID feeling. 'There are still a few nerves because it's a big step for lots of students. But those nerves will have gone by the end of the week and we'll be having a great time together.' She does have a tip: 'If you're open, the students will be more likely to open up too.'
To ensure the week is safe, all mentors have followed special training on consent. They'll be able to deal quickly with an unsafe environment or unacceptable behaviour. 'We've learnt to spot certain signs and to remove someone from an unpleasant situation without ruining the atmosphere,' says Haike. Jayme adds: 'We also have a codeword: "Do you want some fizzy water?", which really means are you ok or are you feeling uncomfortable with the situation?'
Student well-being
There's all sorts on the programme of this intro week, which the organisers say is more diverse than ever. There's a pub crawl, but the participants can choose to go on the museum crawl instead: night at the museum. And craft workshops are scheduled at the same time as the karaoke and roller disco. Plenty of choice for all therefore. Student well-being is an important theme at this year's EL CID and it should be a fun and safe week for all.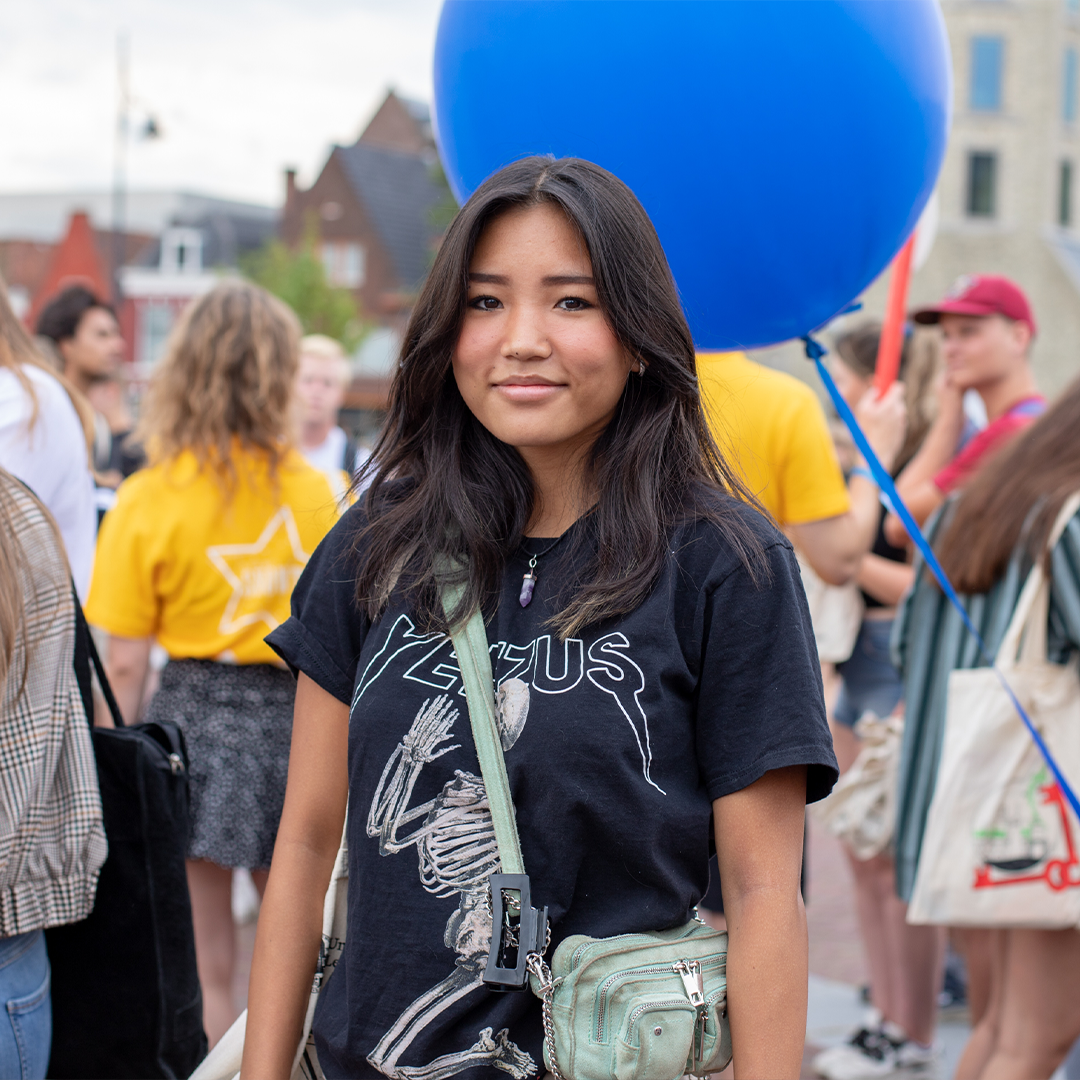 Fenna from Rotterdam is starting the Criminology programme. 'I actually wanted to do Law, but this appealed to me more. It's a mix of law with an added bit of psychology. It looks like great fun to do.' She'll carry on 'living with the parents' for the first year of her programme but may find a room in Leiden after that. She's really looking forward to meeting new people and discovering Leiden. The start of EL CID is a bit daunting she has to admit. 'I've come together with a friend, so at least I know someone.'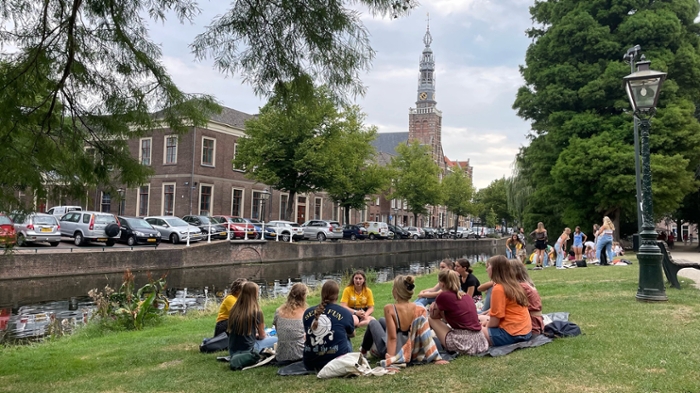 Having spent a year studying in Middelburg, Ximena is now starting the Cultural Anthropology and Development Sociology programme in Leiden. 'I'm really looking forward to the fieldwork. You go to certain places to observe and interview people. I reckon it'll be really interesting and fun.' She's taking part in EL CID to get to know Leiden better and meet people from her programme. 'I'm just going with the flow. I like surprises.'
Covid a distant memory
Although covid feels like a distant memory (after the two previous editions), the organisers have taken measures. There are cleaning stations with sanitiser at the different events and participants or mentors who test positive have to stay at home. This should limit the number of covid cases to a minimum.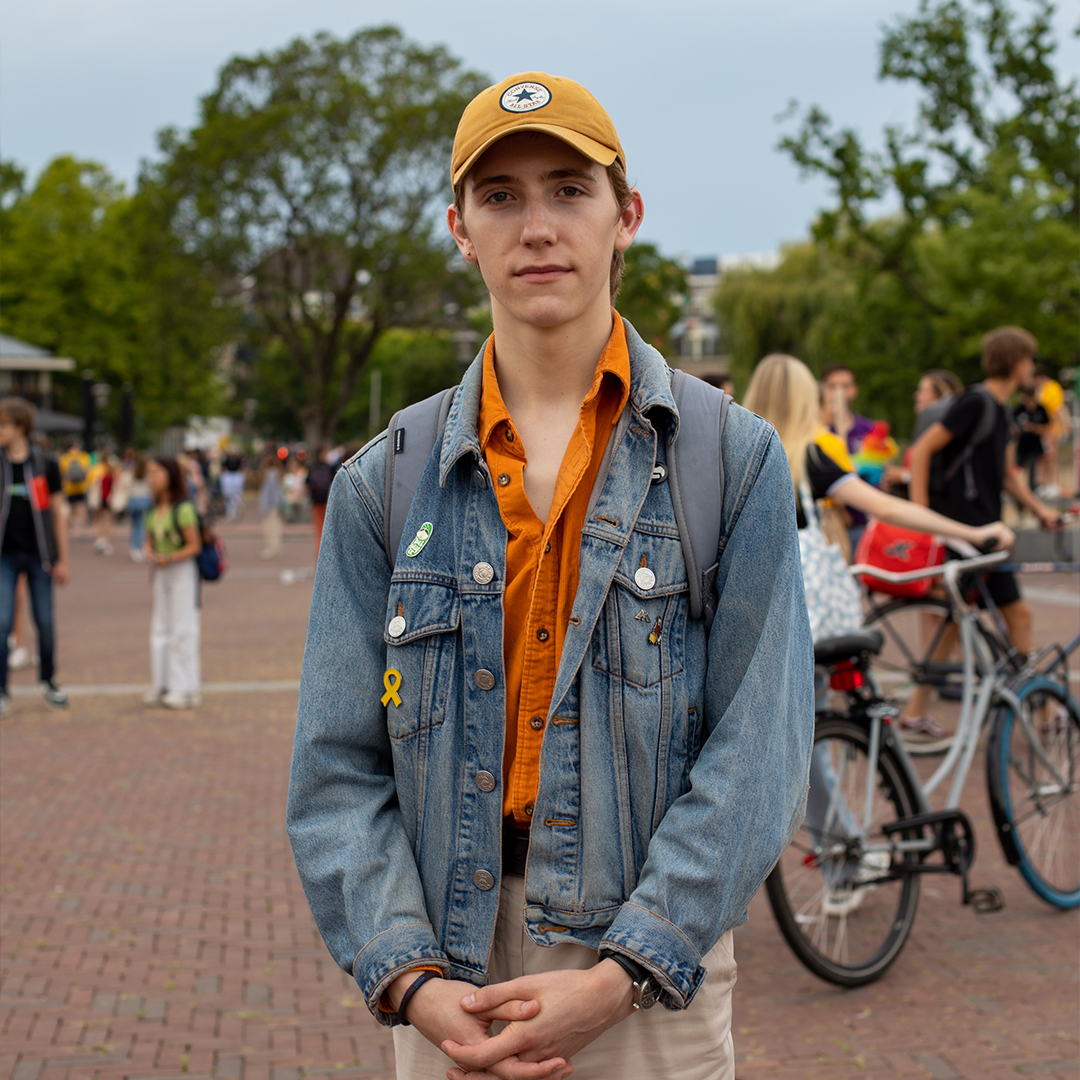 Castor from The Hague is in a smaller group of new students on the Philosophy programme. He's still living at home but likes the idea of a room in Leiden. He hopes to find people with similar interests during his studies in Leiden. 'I do a lot with music because I play the bassoon and am in a couple of orchestras.' He took a gap year last year because of covid. 'I didn't know if it would be fun and then there was another lockdown, so I'm glad I didn't start last year.' He seems to have that EL CID feeling: 'I'm a bit nervous but am looking forward to the week.'
With a fantastic week ahead, Leiden seems to have its EL CID back. The week will end on Friday with the Leiden First-Years Festival and then it will be time for the closing party: Toegift. We wish all participants a happy EL CID and look forward to seeing you soon in the lecture halls.
Text: Tim Senden
Photos: Rob Dorresteijn