Criminal cases and the media
On Wednesday 7 September, the new first-year students of Law and Criminology at Leiden Law School visited the Stadsgehoorzaal for a College Tour on the topic: Criminal cases and the media. Presenter Annemarie Brüning, a well-known presenter of the Dutch television programme 'Hart van Nederland' discussed the issue with practitioners from the legal field.
The guests were former criminal judge Martien Diemer, criminal lawyer Brigitte Roodveldt and public prosecutor Koos Plooij. The discussions were followed by a short interview by student assistant Marnick van der Bom with author Roelof Smit about his book 'De dubble waarheid' (the double truth). The students received the book afterwards as a present from the Faculty.
One important topic was organised drug-related crime and lack of security for criminal law professionals. How do you deal with big cases when you know your involvement could pose a real threat? Roodveldt answered that he was cautious when taking on cases. 'You're not only making a decision for yourself, but also for your family, and colleagues. But you shouldn't allow yourself to become afraid. In 99 percent of the cases, this threat isn't an issue.' Diemer added: 'External threats are what make you a good judge. You immerse yourself even deeper in your work and you receive a tremendous support from your colleagues.'
In answer to the question whether omitting the names of officers at the recordings of sessions creates a sense of security, the three guests responded negatively. Roodveldt: 'It's a false sense of security. If they want to know who you are, they'll find out anyway.' Plooij confirms: 'Within the walls of the courtroom, everybody knows each other. The relative anonymity towards the outside is different. When your name isn't mentioned in the media in relation to a case, people are less likely to make the connection. That often helps your neighbours to feel more safe and allows you to live a less stressful life.'
Another topic that raised a lot of questions with the audience was the 'trial by media'. So-called 'juice channels' claim to be able to share everything because they do not practice journalism and therefore do not have to adhere to the principle of audi alteram partem. But should you, as medium, be allowed to judge people regardless? Plooij: 'In our country, you have a lot of leeway under the blanket of free speech and free press. The problem lies in the emotions that those proclamations evoke with the audience. When media publicly judge someone, people tend to believe that "that person is guilty", while it still needs to be ascertained by a criminal investigation.' Diemer added: 'In most of these situations it concerns sex offenders. Such cases are incredibly difficult to assess because it often occurs between two people in an enclosed space.'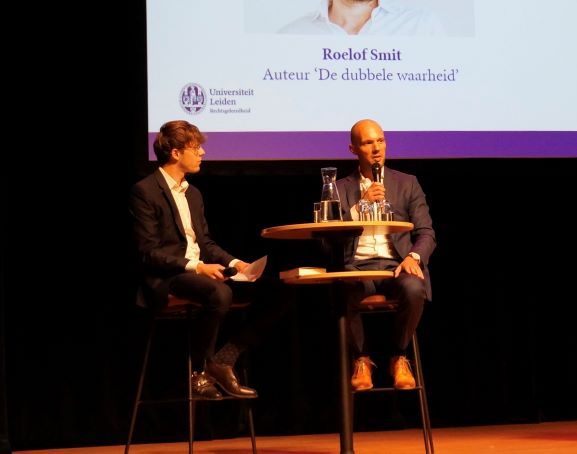 During the College Tour, Marnick van der Bom interviewed author Roelof Smit on his book 'De dubbele waarheid' (the double truth). In the book, he tells the story about two men who each experienced the same night differently in reference to the affair between Jelle Brandt Corstius and Gijs van Dam. Smit explained: 'When I saw the individual pleas on television I realised that I believed both men. Which intrigued me. They were each present during the same night, but clearly experienced it very differently. One feels abused, while the other remained utterly unaware.' The book can be read from both sides; the point of view of both men is described. With this, he wants to show how two stories can both be true or partially true. Smith's tip: start by reading the side you are least likely to believe.
At the end of the College Tour, Koos Plooij added a few words of wisdom: 'If you want to become a good legal expert or criminologist, don't try to rely too much on your initial feelings or emotions. Always try to find out: what really happened? And judge carefully based on your findings.'