International Studies celebrates 10th anniversary: 'We're unique in the world'
September 2022 marks the tenth anniversary of International Studies bachelor's programme. Some (former) staff members tell us what they think makes the Faculty of Humanities' largest programme so special.
Isabelle Duyvesteyn, Programme Chair
'The International Studies programme is unique in the way it brings together the specific and local with the international and global. In my opinion, this richness and scope cannot be found anywhere else. In the programme itself, large is combined with small, by combining a large programme with personal attention for students in small tutor groups. As a result, students feel known, seen and heard, despite the large numbers. In addition, the programme has succeeded in expressing the international dimension well: not only in the diverse international student population, but also in the equally diverse teaching team. It is a great pleasure to see the effects of this every day, both in the classroom and in the office.'
Jeffrey Fynn-Paul, University Lecturer, involved in the establishment of International Studies
'In the initial years, we had to design our courses in such a way that they correlated with all of the other kinds of knowledge the students were exposed to, and we needed to define a skills building track. At the start, this occasionally went wrong, with students learning about Foucault and Marx in three or four different courses. Luckily, most of the students had a really good sense of humour. Generally, they thought the camaraderie of such an international set of students was worth the glitches, as was being part of something brand new. The study grew exponentially, but in the end, we managed to define the curriculum, and create a logical structure in the programme. We also managed to give permanent positions to staff who had been hired on a temporary basis.
'I hope we'll get back to the big lectures that we used to have before covid. Not only because it makes me feel like a gameshow host standing in front of six hundred people, but mainly because these big gatherings are what International Studies is all about. When you're in a lecture hall with people from fifty or sixty countries, you really get a sense of 'We here are the world'. Thousands of our students have entered that world as professionals who are able to talk about more than one discipline by applying the methodologies of more than a single discipline.'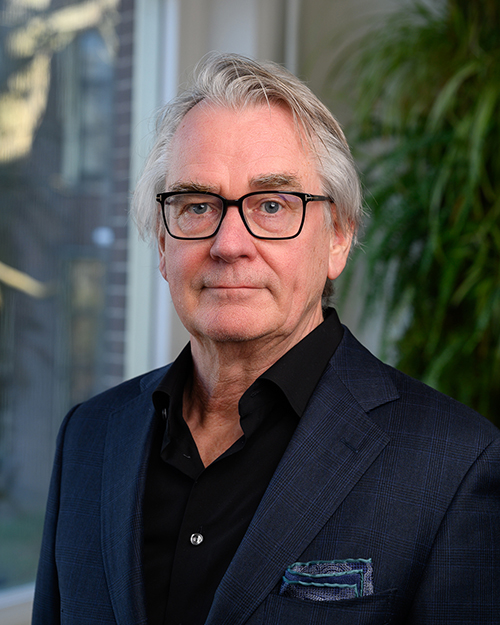 André Gerrits, first Programme Chair of International Studies
'By now a lot of other institutions have followed our example, but ten years ago, with our combination of language, culture, politics and history, we were one of the first broad bachelors' programmes in the Netherlands. It was an immediate success: we started with 230 students in the first year. I was quite nervous about that, because Campus The Hague had only just come into existence, so the lectures were given in theatres and churches. Very unusual, but students who come especially from abroad expect good facilities. At that time, we did not even know where they could do an internship abroad the following year. Still, we succeeded in having 160 students from that first cohort graduate within three years. That achievement really shows the hard work of those early days.
'Meanwhile, the idea of large international programmes with many foreign students has become more controversial. I hope that a distinction will continue to be made between studies where an international student population actually contributes to the programme and studies where this is less the case. In International Studies, an international student population is part of the core of the programme.'
Jaap Kamphuis, University Lecturer and Programme Manager International Studies
'International Studies does something that is no longer a given. While many language and culture programmes are struggling these days, we have more than 500 students every year who come to us to because of the language and culture combination.. The programme is unique in the world because we can make use of the regional knowledge available in our faculty. In addition, students can choose from 17 different languages.
'Ten years ago, this was one big experiment, but we can now look back and say that the experiment was successful: the programme has grown up. We now have more than 2,500 alumni who form a large international network and many of them still stay in touch with one another and with us. The knowledge and skills they acquired with us are proving to be in great demand in a globalising world. So, I'm looking forward to the next ten years with great anticipation!'
Marina Terkourafi, Professor of Sociolinguistics
'One of the most notable moments I experienced at International Studies was before the Experience Day. I was going to introduce the programme to prospective students and asked our programme manager whether there are similar programmes in other Dutch universities, as I wanted the information I give to future students to be accurate. I was absolutely amazed to find out that our programme is unique and that no other Dutch university offers such an interdisciplinary programme in the Humanities, with the same breadth and depth. Reason enough to celebrate, I think!'