LACDR International Day
As a new initiative of the LACDR Institute Council, the Diversity, Equity, and Inclusion (DEI) team celebrated diversity and raised awareness about DEI with a first LACDR Internationals' Day on September 22, 2022.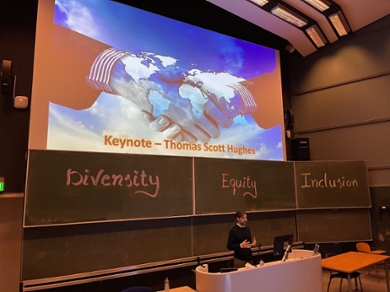 Keynote speaker Dr. Thomas Scott Hughes, PhD from University of Copenhagen, gave a talk on DEI through context as "what DEI means to you". Exercise of "Assumptions made and their impact on you" led to healthy discussions about gender, profession, institution-based assumptions on people.
In the personal storytelling part of the event, a few colleagues shared their inspiring journey of hurdles, motivation, routes taken before being at LACDR. LACDR scientific director Prof. dr. Hubertus Irth closed the session with emphasis on the necessity for such more events and shared his journey towards LACDR. The event ended with special Indonesian food, to celebrate the theme of Asian food. The DEI team is currently working on building a website, a buddy system, and a Diversity calendar to celebrate special important days for genders, culture, religion, beliefs etc.