Surprising insights, experiments and magic tricks at interactive 'Wijsneus Festival'
What should we do about litter in the countryside? Can you tell from camera images if someone is guilty? And what does your heart rate really look like? Get answers to these questions and more at the free 'Wijsneus Festival' on Friday 16 September at Leidse Hout Park.
One of the organisers is behavioural scientist Anouk van der Weiden. 'We wanted to put on something for the people of Leiden as part of Leiden European City of Science and I immediately pictured an interactive festival. An afternoon where you don't just listen but can also ask your own questions and do interesting experiments, just like at Lowlands or Nemo Science Museum.'
Get your heart rate measured
No sooner said than done: at the Wijsneus Festival you can get your heart rate measured and discover whether you have sweaty hands. The 'twijfelschappers' will get you thinking about all aspects of scientific research. And there will be music from acoustic band Moon About, a show by illusionist Rich Magic and food and drinks at Theehuis.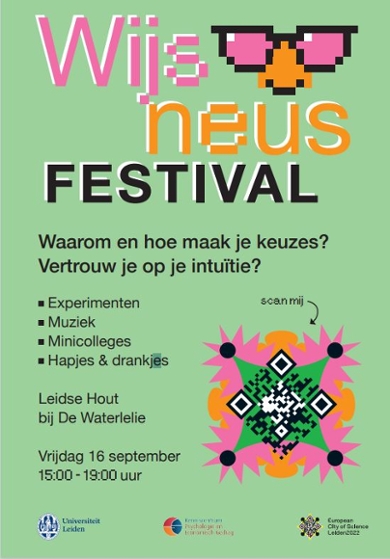 Ask your questions about human behaviour
There will also be lectures by Leiden behavioural scientists Henk Staats, Welmer Molenmaker and Van der Weiden herself. She doesn't yet know what she's going to talk about. 'I'm going to answer questions from the public about human behaviour so it can go any direction. You can submit your questions in advance via Postbus71 and the people with the most interesting ones will stand a chance of winning tickets to the Space Expo in Noordwijk or Naturalis Biodiversity Center.'
Van der Weiden hopes visitors will be surprised and will leave the festival with new insights. 'If there's one thing I've learnt from my research, it's that people don't work quite like we think they do. I'm always surprised at how our environment influences our thoughts and actions, without us even realising it.' Did you know, for example, that if something smells like detergent, people behave better and are more likely to tidy up their mess?' For more such facts, come along to Leidse Hout on 16 September.
When: Friday 16 September 15:00-19:00 hrs.
Where: Muziektent de Waterlelie
Houtlaan 100, 2334 CL Leiden
In collaboration with Leiden European City of Science and Friends of Leidse Hout
Text: Julie de Graaf