Wood formation further explored by NWO-XL grant
Leiden researchers, Professor Remko Offringa and co-applicants Salma Balazadeh and Frederic Lens received an NWO-XL grant (2.5 million euros). Together with researchers in Wageningen and Groningen, they will study the genetic and environmental drivers of woodiness. From plant to molecule, the groups will investigate which genes are involved and how to use woodiness in agriculture.
The grant will give way to a five year project. During this time, wood and lignin formation in flowering plants is the main theme. Lignin is a compound in plants, which gives plants sturdiness, but it also suggested to have an influence on drought resilience.
A timely grant
In Leiden, at the Institute of Biology (IBL) and Naturalis, three researchers will investigate how plants regulate wood development and how this impacts drought resilience: Remko Offringa, Salma Balazadeh and Frederic Lens. They are thrilled to receive this grant. 'Particularly as the grant gives us a great opportunity to work more intensively together,' says Lens. 'At the same time, it is exciting to be part of a bigger consortium with complementary expertise focusing around wood and lignin formation in plant stems.' Offringa adds: 'This NWO-XL project is very timely, as we just published on a gene that promotes woodiness in plants.'
Lens continues: 'The novel insights into the molecular mechanism leading to wood formation nicely complements with my work on evolutionary transitions from the non-woody towards the woody state, which have happened hundreds of times independently within the flowering plants. It is likely that drought could have been one of the major drivers behind these rampant convergent transitions.'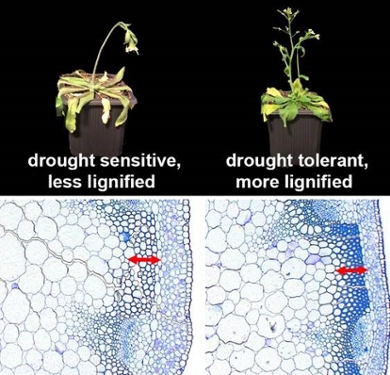 Advantages for breeding and biotechnology
More specifically, they aim to address important fundamental questions in plant biology and plant stress. 'This generates understanding that will have a profound, long-term impact on future plant breeding efforts and biotechnological approaches,' Balazadeh adds. 'It can enhance drought resilience of crops. In addition, we want to explore to what extent we can use the massive waste stream of unused, lignified stems. In the Netherlands these result from greenhouse tomato production. It could serve as a valuable source for biobased materials, because lignin can be used as an alternative for petrochemicals in materials such as plastics, glues and asphalt.'
More information about the research project.