Executive Board column: Make refugee students feel welcome at our university
I recently went to the anniversary celebration of The Meeting Point, and the stories the refugee students told made a huge impression on me. The Meeting Point helps students from different backgrounds feel part of our university community.
In this column Annetje Ottow, Hester Bijl and Martijn Ridderbos give a peek behind the scenes at the Executive Board of Leiden University. What does their work involve? What gets them enthusiastic? What challenges do they face? Building on a healthy, engaged and learning community begins with sharing what you are up to. This time it's the turn of Annetje Ottow.
It was inspiring to see how determined and resilient these students are after all they have been through. Their stories deeply affected me. One student said he preferred to buy a train ticket to get to lectures than to eat that day.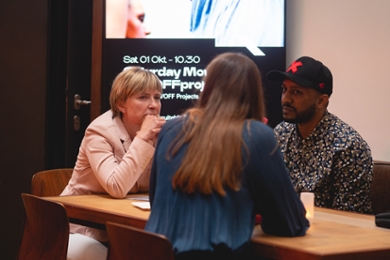 At the celebration, I also saw the warmth and compassion with which The Meeting Point and IncLUsion support, guide and advise our refugee students. To study here, you have to be motivated and work hard, but you also need access to language courses and information about the structure and culture of our educational system.
I want to ask students and staff to reach out to refugee students and make them feel welcome at our university. There is a real need for this. It doesn't have to be about grand gestures; try striking up a conversation so they can practise their Dutch or going for a cup of coffee together.
or their part, students with a refugee background bring a wealth of new perspectives and experiences: through their language and culture but also their knowledge and experience in the professions many of them worked in before they came to the Netherlands. These diverse perspectives enrich our community and challenge us to be open to and learn from one another.
We have already seen that the kind of support The Meeting Point gives refugee students is important to many other students too: students who are the first in their families to go to university, for example, or students from the Caribbean parts of our kingdom. And what we learn from this helps us improve the support we offer to all of our students.