Fifty years of teaching and research in Egypt: 'Visit to Cairo a highlight for students'
The Netherlands-Flemish Institute in Cairo (NVIC) is celebrating its 50th anniversary this year. Thousands of students and researchers from eight partner universities in the Netherlands and Flanders have been able to gain valuable experience in Egypt through the institute. Good reason for a celebration.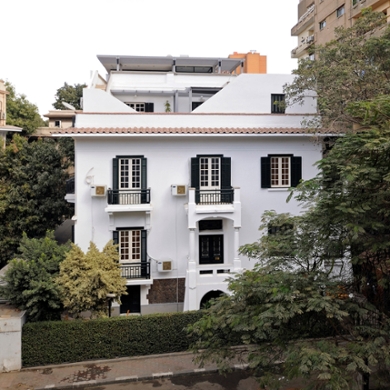 The celebration of this 'golden' anniversary should have taken place a year earlier, but the covid pandemic put a stop to it. 'Actually, we're already 51, because the Institute was founded in 1971. Nonetheless, we're celebrating our anniversary this year. If the Olympic Games can be delayed for a year, we can do the same,' laughs director Rudolf de Jong, from his office in the Egyptian capital.
The 50th anniversary will be celebrated on 7 and 8 November and will be attended by representatives from the universities and a senior official from the Egyptian Ministry of Tourism and Antiquities. The good relationship with the Egyptian government is something De Jong is proud of. 'It makes sure that we get permission to do research on location and that we can receive dozens of students here every year.'
The Netherlands-Flemish Institute in Cairo is a partnership of nine universities and research institutes: Leiden University, the University of Amsterdam, VU Amsterdam, the University of Groningen, Radboud University, Utrecht University, Ghent University, KU Leuven, Antwerp University and also the Research Foundation – Flanders (FWO).
Receiving students came to a sudden stop in March 2020. The 57 students who were in Cairo at the time had to be repatriated to the Netherlands and Flanders because of the outbreak of the covid pandemic, amid reports that the Egyptian air space was to be closed. The work of the crisis team at Leiden University meant that the students were able to leave Egypt just in time. De Jong remained in Egypt, along with some of his staff.
After covid
Luckily things were able to open up again earlier this year, with the first researchers and students being allowed to visit the Institute again. 'Now we're busy making up for lost time. This autumn we had 71 new students. For many students of Egyptology, Arabic, Middle Eastern Studies or other related subjects, a stay in Cairo is a real high point.'
Professor Tristant shows the students the pyramid of Djedefre in Abu Roash / Photo: Marleen de Meyer

Students of Egyptology give presentations on their final assignment in the Egyptian Museum in Cairo / Photo: Marleen de Meyer

Group photo in front of the Bent Pyramid of Sneferu in Dahshur / Photo: Marleen de Meyer

Dr David Aston giving a lecture on Egyptian ceramics in the Valley of the Kings in Luxor / Photo: Marleen de Meyer

Students on their way to Egypt's oldest royal graves in Abydos / Photo: Marleen de Meyer

Egyptology students visiting conservation works in Deir el-Medina / Photo: Marleen de Meyer
'Students are often reluctant to return home. I take that as a compliment'
'And that's exactly what the Institute is here for,' jokes the director. 'You have to realise that for many students this experience is a whole education in itself; some of them aren't even living away from home yet, and then they come here and have to find accommodation for themselves for the first time. We do help them with that because it's very different from the Netherlands or Flanders. The people who own the apartments don't always want to play according to the rules. Sometimes you have to be able to negotiate.'
Oxford and Harvard
Looking back at the past 50 years, De Jong is especially proud of the NVIC's good reputation. 'Students are often reluctant to return home. I take that as a compliment.' That good reputation also reflects on the partner universities. These days, even researchers and students from such prestigious universities as Oxford and Harvard are showing interest. But De Jong believes it is the good relationship that the Institute has had with the Egyptian government over the past 50 years that is particularly special.
'Egypt is a country where a lot of things are not allowed, but ultimately everything is possible'
'We need to foster that relationship. It's what makes sure that we continue to get permission to carry out independent research in Egypt, and that's very important for the partner universities. Egypt is a country where a lot of things are not allowed, but ultimately everything is possible.' The National Museum of Antiquities in Leiden has been taking part in excavations in the New Empire necropolis at Saqqara since 1975, for example. In 2002, the Dayr al-Barsha Project started in Central Egypt, led by the KU Leuven. During the excavations, an intact grave was found dating from around 2050 BC: that really is a very special find.'
The Netherlands-Flemish Institute was founded in Cairo in 1971. An important early acquisition was the Egyptology-Archaeology Library of Walter Bryan Emery, a British Egyptologist. Since then, the Institute has developed to become a centre for scientific research in Egypt. Many dozens of students of Arabic and Islamic Studies, Middle Eastern Studies, Egyptology and Archaeology visit the Institute every year.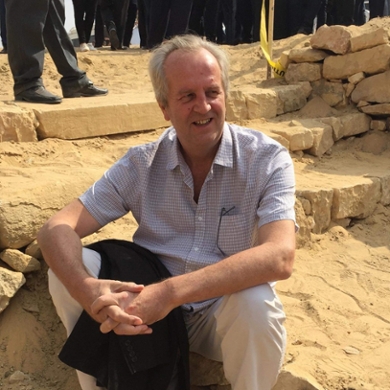 But joint work is also done with the Egyptian government. In 2018, a site management project started in Beni Hasan. At this archaeological site, Egyptian inspectors had lessons on how to manage the site and make it suitable for tourist visits. 'These are skills that can also be used at other heritage sites in Egypt. This kind of joint project creates a lot of goodwill within the Ministry of Tourism and Antiquities,' De Jong explains.
Looking ahead to the future, he hopes that the good relationship with the Egyptian government will continue. 'If I'm honest, I'd like to expand, add another building like the one we have now. But we don't have the funds for that. It would be great if we could teach even more students in the future and carry on doing research in this very special country.'
Text: Tim Senden
Main photo: Marleen de Meyer/NVIC