De dag van Jasper
Jasper Knoester startte op 1 januari als onze nieuwe decaan. Hoe gaat het met hem, wat doet hij precies en hoe ziet zijn dag eruit? In elke nieuwsbrief geeft Jasper een inkijkje in zijn leven als decaan.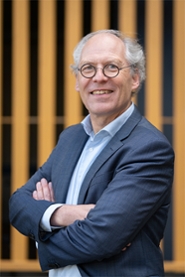 Thursday 13 October
'The day starts at 8 am with an early meeting with UNL. In UNL universities work together towards a strong university sector. We have regular meetings, which I told you about earlier. We have a good conversation today. I attend the meeting online from home. Great that this is possible, as I have to be in The Hague in the afternoon. So no trip to Leiden today. My other meetings are also online this morning. Remarkable how quickly we seem to forget these long months where it was obligated to do everything from home. But very nice that we have both possibilities these days.
One of the other meetings is with Yun Tian, the Policy Officer internationalization for our Faculty. We discuss the trip we plan to make to Indonesia in May 2023. I have been to Indonesia many times before the pandemic, as a researcher and as an administrator, and I am looking forward to strengthen ties for our faculty. A number of collaborations are already in place and it is worth building on these.
It is a very enjoyable evening, where I am asked to sit at a different table for each dish.
Around lunchtime, I head to the Wijnhaven building of our Campus in The Hague. Once again, I am impressed by this building. The interior is inviting for meetings, discussion and teamwork. And you can see that happening on every floor. The international atmosphere there really appeals to me. I come for the Executive Board meeting with the deans. Of course, these are tough meetings, which usually take up to three hours. Today, one of the subjects is knowledge security. This is important for our Faculty because we cooperate a lot with foreign institutions.
The day ends in Noordwijk. The IBL has a day on the moors and I am a guest at their dinner. It is a very enjoyable evening, where I am asked to sit at a different table for each dish. So by the end of the evening I have spoken to almost everyone. There is a lot of energy in the group, which is pleasantly contagious after a long day of deliberations. On the bus back, I check my email and make a last phone call, so I have some family time at home.'