LUMC signs international agreement on developing Advanced Therapy Medicinal Products
Skåne University Hospital, Lund University and Leiden University Medical Center will work together to expand their research, teaching and development relating to Advanced Therapy Medicinal Products. That is the essence of a Memorandum of Understanding signed at SciLifeLab near Stockholm on Wednesday 12 October, during the Dutch king and queen's state visit to Sweden.
The Swedish Minister for Education, Anna Ekström, and the Dutch Minister for Education, Culture and Science, Robbert Dijkgraaf, attended the signing, as did the Leiden University Medical Center (LUMC) Dean, Pancras Hogendoorn.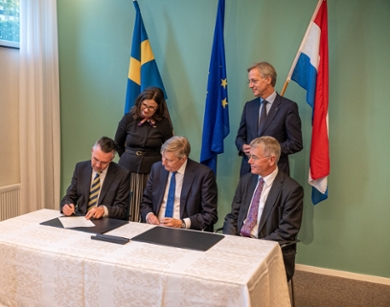 Advanced Therapy Medicinal Products
Over the past decade scientific breakthroughs in cell biology and genetics have enabled the development of new treatments known as Advanced Therapy Medicinal Products (ATMPs). ATMPs are complex innovative biological drugs that are based on cells, tissue or genes and offer ground-breaking new opportunities for the treatment of a variety of diseases, such as various forms of cancer, Parkinson's disease and genetic blood disorders.
Collaboration between Leiden and Lund
In both Lund and Leiden healthcare and academic institutions work together closely within important innovation environments and research infrastructure. In Leiden this includes the Leiden Bio Science Park and in Lund Medicon Village, MAX IV and ESS – all located in Medicon Valley, one of Europe's strongest life science clusters.
LUMC and Lund already cooperate within various networks, such as LERU. This makes student exchanges between the two organisations possible, for example. They also have indirect links via common partners, like the University of Copenhagen, which LUMC works with within reNEW. The Memorandum of Understanding will further intensify the cooperation between the two institutions.
The future collaboration will be broad and cover areas such as research, researcher exchanges, teaching, clinical studies, therapeutic product development, collaboration with industry and care delivery. The partnership between Lund and Leiden has the potential to become one of the strongest international hubs for ATMP development, also because each region is already embedded in a broader network. Now the memorandum has been signed, the process will enter a negotiation phase to agree on which activities the three parties will work on in the coming years.
'Developing ATMPs is a high priority in many countries, including Sweden. The collaboration with Leiden is an important step in joining forces in this field. Within ATMP, it is particularly important to link basic research to clinical treatment. Both Lund and Leiden have proven to be at the forefront of these areas,' said Erik Renström, Vice-chancellor of Lund University.
State-of-the-art facilities
The Netherlands has a strong ATMP programme within the Dutch Science Agenda route on regenerative medicine. The LUMC has a leading position in this field, with state-of-the-art facilities. In 2022 it opened NecstGen, a 4,000 m2 GMP facility for the manufacturing and process development of cell and gene therapies. Regenerative medicine is one of the main research themes in Leiden. Prof. Pancras Hogendoorn, LUMC Dean: 'By entering both national and international strategic collaborations, we can combine disease-specific expertise and capacity for innovative research and gain access to more donor and patient material.'
Future development
At Skåne University Hospital in Lund, an ultra-modern ATMP centre is under construction, which will open in 2024. Lund University is one of the leading Swedish universities in research in cell, tissue and gene therapy. 'This collaboration is important for the future development of ATMPs. It will increase our opportunities for offering ATMP treatments to seriously ill patients,' said Björn Ekmehag, Chief Executive Officer at Skåne University Hospital.
Unlike traditional medicines, which are usually developed entirely within the pharmaceutical industry, the majority of ATMPs are developed on the basis of academic innovation. Many ATMPs also rely on healthcare providers as a link in the development process. Bringing these new therapies to patients requires collaboration and coordination between leading academic and clinical centres.
Text: LUMC
Photos: Chris Jonker/MinBZ