A quick call with Petra Slabber about Emergency Response Day
Every year, the first Monday in November is Emergency Response Day: the opportunity to recognise the importance of emergency response officers. At Leiden University over 400 enthusiastic and dedicated emergency response officers make sure our students and staff are safe, says emergency response training coordinator Petra Slabber from the University Services Department.
Hi Petra! To get straight to the point: why is our emergency response team so important?
'People usually associate emergency response officers with fire prevention but lots of other accidents happen at the University too. An extreme example is the two resuscitations we've had within the past year. Thanks to the decisive action of the emergency response team, both people fortunately survived. But we're also seeing more students fainting, for example, and things go wrong at times in the labs too. The emergency response team means we have our own mini hospital at each site.'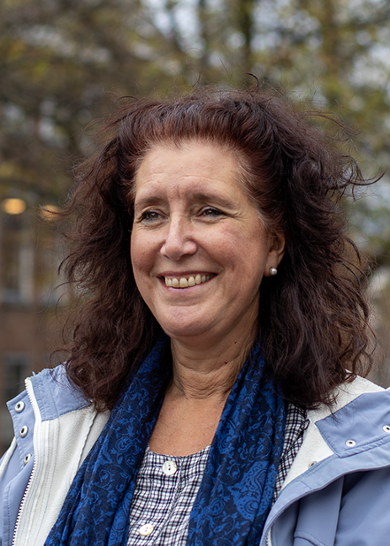 And what are your duties as training coordinator?
'I'm in contact with all the emergency response coordinators. We draw up schedules together and discuss the content of the training programmes. I also organise the basic training courses and with our emergency response app I keep an eye on staffing levels at the various locations.'
Sounds useful such an app! Do we have enough emergency response staff?
'In principle, yes. But the trouble is that the emergency response staff have also been working from home more since the pandemic, whereas students are back on campus in much larger numbers. So more emergency response staff are definitely welcome.'
Does training take up a lot of your time as an emergency response officer?
'After you've completed the basic course, you take part in six exercises per year. These vary hugely: from real evacuations where the alarm goes off to "dry" evacuations with smoke machines and special "crackle boxes" that make it sound as if there really is a fire. And of course, you have walkie-talkie training, radio etiquette as it's known. As an emergency response officer, you receive an allowance but it's also great fun to go through all sorts of scenarios with your team. There are always laughs to be had during exercises. And knowledge of firefighting and first aid is useful outside of work too, so you know what to do if, for example, your child chokes.'
Have you got any safety tips for your colleagues?
'Definitely! Keep fire doors shut, even if it's hot in the summer, and never place things in front of emergency exits or fire extinguishers. Save the emergency number for your work location and find out where the emergency exits are. Then you'll be able to act fast in an emergency and get out safely. And of course: always follow the emergency response officers' instructions.'
And finally, do you have any words for the emergency response officers?
'Thank you so much for all your hard work during exercises and incidents. Your presence makes our work and study environment safer!'
Text: Evelien Flink
Portrait picture: Fien Leeflang
A quick call with
There is never a dull moment within Leiden University. The websites are filled with news on a daily basis. In 'A quick call with' we ask one of our employees to tell us more about a relevant and current topic.