Art project has students and lecturers reflecting on pressure to succeed
What does it mean to be the 'perfect student'? This is the focus of the Perspectify exhibition, which was opened on 16 November by President of the Executive Board Annetje Ottow.
The exhibition is part of the Perspective project. 'The project was created to give a broader perspective on life after university,' says project leader Laura van der Plas. 'What are realistic expectations? We want to do something about the pressure to succeed.'
In conversations with students and lecturers, Laura realised they feel 'gigantic' pressure to succeed. 'There are lots of myths doing the rounds. Students sometimes think you'll never find a job if you haven't done a board year or studied abroad.'
Unrealistic expectations
With the project, she is trying to put these unrealistic expectations into the right perspective. 'I hope that students will think about the expectations they have of themselves. What do I want myself and what do I want because I'm comparing myself with others?' She also hopes that lecturers and other staff will consider how it is to study in this day and age. 'How is it different from the past? And what is your role as a staff member or lecturer?'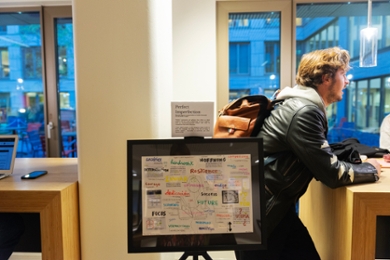 Student Manuela Figueira Lorang, who made a drawing with texts for the exhibition, also recognises the increased pressure. 'I feel a great pressure to succeed, not just from the University but also from my fellow students and others around me. Despite knowing that I shouldn't compare myself with others, I do it anyway.' The pressure sometimes makes her anxious and she starts to worry. 'I'm more concentrated when the pressure is high but I've realised it's unhealthy for me.'
'You don't have to be perfect to be successful.'
The project led Manuela to discuss the pressure to succeed with her housemate. 'She had a good perspective on "the perfect student". She said you don't have to be perfect to be successful. For her, success isn't about what others think of you.' The project has given her some insight into the perspective of others. 'I found connection with others. It sometimes feels as though we're facing things alone but that isn't true. This affects everyone.'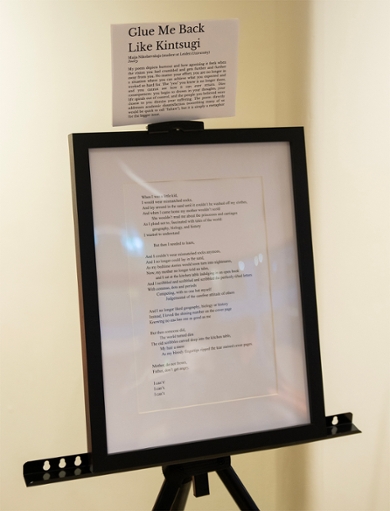 Struggling with perfectionism
The concept of the art project also appealed to student Maija Nikolaevskaja. 'I've been struggling with perfectionism for some time,' she says. 'My parents grew up in the Soviet Union and academic success is very much valued in that culture. As a result, success becomes part of your self-image.' She has seen lots of students around her struggling with the pressure to succeed. 'Students are very ambitious and want to achieve great things. The system rewards good marks and if you want to achieve something, you're dependent on good results.' She sees international students in particular suffering from a lot of stress. 'If you don't do well, you'll have to go back to the country you came from.'
Not only students are exhibiting works at the exhibition but also several lecturers. One of them is Bastiaan Vuyk. 'I saw the call for Perspectify on social media and by chance had just finished a painting that ties in perfectly with the theme. It's a painting based on Piet Mondriaan that I did at times when I needed to relax after work.'
Creativity under pressure
Bastiaan also experiences a lot of pressure in his work. 'When I come home all my creativity has been used up. Then I have to recharge. To encourage myself to do so, I paint. The painting also ties in with the course I give, Introduction to Psychology, which lends itself well to creative expression.'
Bastiaan does all he can to keep the pressure on his students as low as possible. 'You see a real drop in creativity as the pressure increases. To remove that pressure, I try to create a positive climate where everyone can express their ideas.'
Bastiaan Vuyk with his painting

Annetje Ottow talking to students
The exhibition will be on display at Wijnhaven in The Hague until Friday 18 November. Then the artworks will go on tour in Leiden to the P.J. Veth building, the University Library, and Oude UB on Rapenburg.
Text: Tom Janssen
Photo's: Ehlana Polgara van Roijen