Debate on courage, threats and an ounce of Cleveringa
'If we all possessed just an ounce of Cleveringa, then all would be well in the world,' said Professor Leo Lucassen. In the Cleveringa debate on the line between free speech and threatening speech he called for 'more guts'. He is not the only one who thinks this is badly needed if the debate at the Academy Building on Wednesday evening between academics, politicians and journalists was to be believed.
MP Nilüfer Gündoğan began her contribution to the Cleveringa Evening, which was organised by the LUF student committee, with an ode to Cleveringa. She called on the students present to take his example and show courage and morals. This was badly needed, she said. The Netherlands takes too lightly the fascist dangers that are putting democracy in this country under pressure. Because this is happening, and she regularly experiences it first-hand. And it is not only Gündoğan herself who is threatened by people who do not agree with her but her mother too.
Gündoğan dispels any doubts she may have by reading tweets by virologist Mark van Ranst. His brave reactions and tireless fight for science give her the strength to carry on. 'Democracy can be eroded from within by antidemocratic forces,' she warned. 'In recent years, more countries have become undemocratic than have become democratic.'
Insults and threats
Leo Lucassen, Professor of Global Labour and Migration History, said he was concerned, about omvolkingstheorie (the Dutch version of replacement theory, ed.), for example. 'It's downright fascist thinking. We academics have to share knowledge about this. Because if the middle class starts to shift, as was the case in the 1930s, we are on completely the wrong path.'
His academic contribution to the debate regularly has him on the receiving end of insults and threats. And he too has seen this played out through family members. 'Then it gets really close to home.' But the majority of the threats escape him because he has turned off mentions on Twitter.
'I talk to a lot of young colleagues who don't want to join the debate because they don't fancy receiving threats.'
This doesn't mean that he isn't worried about the academic debate. 'I talk to a lot of young colleagues who don't want to join in the debate because they don't fancy receiving threats. That is serious.' This makes him all the more resolute. Academics, like politicians and journalists, must be able to do their job. 'When you receive your PhD you also promise to serve society.'
Remove title
Lucassen said he could therefore imagine situations in which academics lose their titles if they deliberately spread disinformation and publicly state that they no longer subscribe to the core values within this promise to serve society. NRC journalist Philip de Witt Wijnen called for an academic tribunal to handle such matters. 'Then it is wider in scope and no longer political. Like how the legal profession has the Bar Association and medicine has disciplinary law.'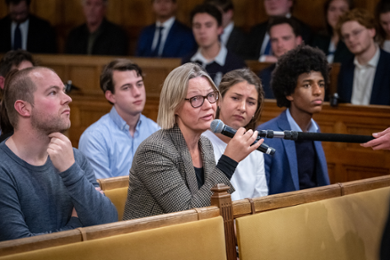 Rector Magnificus Hester Bijl said she agreed with many of the opinions but was not sure about removing a title or withdrawing a dissertation. 'Apart from the fact that the person in would turn it to their advantage, I'm worried that such a sanction would inhibit academics from speaking out. That is at odds with the academic debate that benefits freedom of expression.'
Banning political parties
The idea of banning political parties also divided the participants. Gündoğan and Lucassen thought that it should be possible to ban parties that renounce democracy. But Mare columnist Maia de Quay saw little point in that. 'A ban doesn't take the sentiment out of society.'
Text: Marijn Kramp
Photos: Monique Shaw