Humanities Campus update: Doelengracht participation process complete
The third and final participation session was held on 20 September; the evening was attended by local residents, business owners, students and other stakeholders.
On the agenda was the Urban Plan, on which attendees of the two previous participation sessions had provided feedback. The final details of the Urban Plan are now being finalised in conjunction with the municipality, and the municipality is expected to make the Plan available to the public in the new year.
The participation process was an opportunity for local residents, business owners, students and other stakeholders to engage in discussions about the alternative plan for the Humanities Campus on the Doelengracht side. Representatives of the University, the municipality and the urban design agency KCAP also attended each session to answer questions. The first meeting was held at the end of May 2022 and was attended by more than 40 stakeholders. Those present were informed about the wishes and the plans regarding the development of the area around Doelengracht and about the participation process. The attendees shared their concerns about disruption during construction and about future traffic routes in the area.
The two meetings yielded many valuable observations and additional ideas. The University and the municipality took this feedback into account in the further elaboration of the Urban Plan.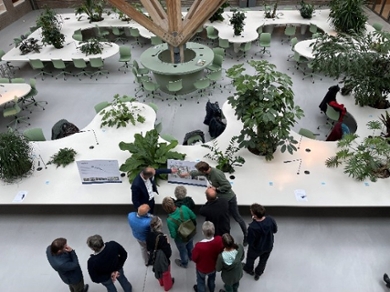 Final participation session
Feedback from participants was carefully considered during the development of the Urban Plan. At the third and final session in September, the details of the Urban Plan were explained, and there was an opportunity for attendees to ask questions and give feedback. Those present were particularly positive about the height of the buildings and the layout of the square and connection to the Singelpark route. They are also delighted with the plans to make the area greener. The most critical questions and comments concerned the issue of logistic flows, waste collection and goods deliveries. A decision was made to implement a solution that distributes the pressure of traffic and loading/unloading as much as possible.
Next steps
The finishing touches are now being made to the Urban Plan, using the input from local stakeholders and in collaboration with the municipality. Adjustments will then also be made to the Zoning Plan and the Landscaping Plan. It is expected that the municipality will make the Urban Plan available to the public at the end of this year, or early in the new year.
Development of the Humanities Campus
The Humanities Campus is being developed to provide modern and sustainable accommodation for the growing Faculty of Humanities. The Witte Singel-Doelengracht area will undergo major changes until 2030, in different phases, while teaching will continue as normal. Existing teaching buildings will be renovated one by one. Following the renovation of the P.J. Veth building and the Arsenaal, it is now the turn of Cluster Zuid.