Jasper's day
On January 1st Jasper Knoester started as our new dean. How is he finding it? What kinds of things is he doing and what does his day look like? In each newsletter Jasper gives a peek into his life as dean.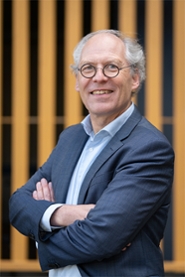 Tuesday 22 november
'Tuesday, will be a day full of meetings and consultations, as usual. Fortunately, the NS has had the The Hague - Leiden timetable up and running for the last week and I am in the office before 9 o'clock. The day starts with a meeting of the faculty board, which has a nice mix of topics coming up ranging from research, teaching, and operations to national developments. We also prepare for the administrative meetings we will hold these weeks with all the institutes, including the Hortus Botanicus and the Lorentz Centre. Their agenda always includes the financial state of affairs and points raised by the institute in question. This round, we are also giving special attention to a gender diversity programme that the board would like to launch next year.
After several brief meetings, Bart and I speak with Aya Ezawa, diversity officer of the university, around lunchtime. We discuss the desire to strengthen the DIE programme within the faculty. (DIE stands for Diversity, Inclusion and Equity, ed.) We talk about the things we have already set in motion and the perceived need to appoint a part-time FWN diversity officer. It is a useful conversation, in which Aya offers us her help to take further steps.
Afterwards, I rush home, cook and eat with the children and jump on my bike to attend a neighbourhood meeting.
After the agenda meeting with Carey (Jasper's management assistant, ed.), I cycle to the Rapenburg for the Periodic Administrative Consultation with the Executive Board. Again a variety of interesting topics on this agenda, with the faculty transition at the top of the list. The Executive Board expresses appreciation for what is happening and identifies a number of issues that require attention. The rest of the meeting also proceeds in a pleasant atmosphere, with useful exchanges of views.
The last item of the day is the meeting of the university's Academia and Motion steering committee that aim to set the lines for the Recognise and Appreciate and Open Science movement. An important movement, which should lead to a more balanced weighting of various contributions of our academic staff to education, research and organisation. All over the country, programmes are running for this purpose. We obviously look at what others are doing, but Leiden also wants to add its own colour to this. Within FWN, we will take important steps in the coming years. We will start by creating more transparency in our career policy and by valuing different talents.
Afterwards, I rush home, cook and eat with the children and jump on my bike to attend a neighbourhood meeting on the heat transition. Like many other cities, The Hague is rolling out a comprehensive sustainability programme over the next few years. A number of speakers explain the state of affairs and there are smaller sessions for special questions, for example about monuments. Our neighbourhood, with many old houses, is clearly a challenge in the transition and therefore we are only on the agenda sometime after 2030. Until then, we have to do it ourselves. After returning home, I prepare tomorrow's day with a glance at the France - Australia match and one of the children's geography homework. A varied day!'