MIRD student Ricardo: 'Students can change the world'
During International Student Week, from 14 to 18 November, we would like to put our international students into the spotlight. Ricardo Alexandre de Jesus Vaz (21) from Portugal is in his first year at FGGA and a student in the Master International Relations and Diplomacy (MIRD).
He is one of few students who have been nominated by FGGA for a LExS+ full scholarship for excellent students. This allows him to do this Masters and study in The Hague. Before coming to The Hague, he studied Political Science and International Relations in Lisbon. We asked him why he chose this Master, what the scholarship means to him, and how he experiences studying here.
Can you explain exactly what the LExS scholarship entails?
'The LExS is a scholarship program offered by Leiden University, which stands for Leiden University Excellence Scholarship. It is designed for rewarding students who have achieved excellent academic results in their previous degree with a tuition fee waiver, which can range from half to full tuition fee. Although only non-EU students are eligible for a vast bulk of programs, EU students are also eligible for some other programs mentioned on the university website, making this program one truly aligned with democratic principles.
In general, students should craft a motivation letter explaining why they would be the right recipients (personal and academic reasons), but also how their goals are aligned with the overall goals of the program for which the student is applying. A student applying for the scholarship should think in terms of what they can do to contribute to their field as well as gain from it. On a more personal note, I would advise all students to remain true to themselves and their struggles erstwhile highlighting their excellency and their contribution to the field.'
Why did you choose MIRD?
'I found out about MIRD through a friend of mine that was looking for Master's outside of Portugal. I never even thought of studying abroad, simply because I did not have the means to do so. This may seem a silly reason, but young people have faced multiple crises in their upbringing. Terrorism and crisis have been in our vocabulary frequently. When the financial crisis hit, I think I had my first palpable interaction with what international really means, as someone who got really affected by it. Today, I locate this event as my realization of how the global or transnational is closer to home than we think of. This is the personal side of it, which links to the academic one. MIRD is exactly located at the intersection.
The Master of International Relations and Diplomacy at Leiden University has combined the selection of courses with a tireless academic body committed to bringing the most challenging and interesting activities to the program. In all honesty, I chose this master with a clear-cut intention to obtain the most knowledge on diplomacy, negotiation, political economy, and law to actively fight against economic inequalities, by understanding the politics of war ideas, and intolerance. Most importantly, this program is unmatched in the world: it is designed for all who want to remain in academia but also for those who want to pursue a diplomatic career. As if this incredible offer of courses was not enough, it is also jointly taught with Clingendael Institute of International Relations. When I heard about MIRD, I immediately looked into Scholarships and found the The LExS scholarship.'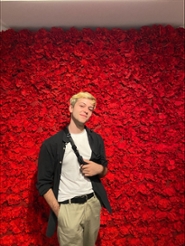 What does it mean to you that you got this scholarship?
'The LExS scholarship is changing my life. My origins are very humble, in the sense that I come from a low-income family in Portugal and my parents did not get the chance to pursue studies. I have always had very present in my mind that education is a fundamental source against inequality and poverty, and this has followed and informed what I do as a student and as a citizen every step of the way. While I do not want to sell my private life, I consider all my academic victories stronger when thinking about the difficulty of facing some struggles. Nevertheless, financial struggles are unavoidable in the sense that they could have been the only thing stopping me from earning this master's that I am so passionate about. The LExS scholarship freed me from this condition, so to speak. It is giving me all the financial mechanisms that I lacked to be able to pursue my studies despite where I come from. It is living up to the promise of liberty of the University. I could not be more thankful.'
How do you like studying here so far?
'In the MIRD programme 90 percent of the students are international. I have met amazing people, and made friends with people from all over the world, with so many stories to tell and experiences. It is so fascinating, I miss the sun and the Portuguese weather, that is a fact, but I wouldn't replace my studies at Leiden University for another place. I am really loving The Hague. It is home to the government and a lot of international political organisations. The Netherlands has a lot of opportunities that Portugal does not have. Biking close to the beach, something I did as a little kid really connects with my personal live.'
'Students can change the world by being open to new ideas, honing their passions, and empowering others with the knowledge they acquire.'
The theme for the week is: Meet the world, make the change. In your opinion, what change can students bring as global citizens?
'Students, as well as everyone else really, are socially informed by different social groups, be it their nations, families, or cultures. But our belonging to different groups does not preclude our subjective experiences in the world, our story, and our knowledge. To make a change is to hear these experiences and be open to the educational capital that students from all around the world bring about through their participation in programs. Students can change the world by being open to new ideas, honing their passions, and empowering others with the knowledge they acquire.'
What is something typically Dutch that you would recommend to others?
'Stroopwafels. I tried them as soon as I arrived and do not regret it at all. But simply biking by the beach, Scheveningen, for example, is a liberating feeling you don't get anywhere else.'
Any tips for other internationals?
'Look for housing as soon as possible. It is going to be a challenging process, I promise it is a collective struggle shared with other international students, but it will be worth it. You do not want to miss out on this opportunity.'
In November each year, Nuffic presents the Week of the International Student. During this week, participating educational institutions all over the country organise activities to connect Dutch and international students. The Week of the International Student (WotIS) showcases the importance of an international experience for both Dutch and international students. This year's theme: Meet the World, Make the Change highlights the positive change students and alumni can make as global citizens. Equality of opportunity is key in this. Everyone should have the chance to have an international experience, so that they can go on to make a difference, no matter how big or small.