New book by Sabine Witting on the Sale of Children, Child Prostitution and Child Pornography
In this commentary, Sabine Witting, Assistant Professor at eLaw, provides a comprehensive analysis of the Second Optional Protocol to the United Nations Convention on the Rights of the Child on the sale of children, child prostitution and child pornography.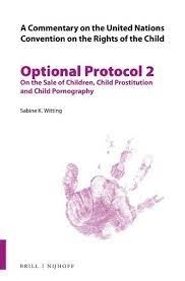 This commentary critically reflects on the impact of globalisation, digital technologies and the COVID-19 pandemic on the nature, scope and meaning of the Second Optional Protocol since its adoption on 25 May 2000. Apart from analysing a broad range of topics, from online child sexual abuse to surrogacy and 'voluntourism', this commentary highlights the importance of establishing child-friendly transnational collaboration mechanisms, conceptualised through a holistic gender lens and taking into consideration the online-offline nexus of violence against children and relevant Global North-Global South dynamics.